NEW NEWS

get the Hesterglock Press / Eachwhat ︎︎︎
Newsletter
︎
︎
︎
︎︎︎ back to homepage
Mar 31:
Postcards From Mental States
by Julia Rose Lewis and Paul Hawkins is published
Mar 30:
Another new title for 2023!
we're going to be publishing Notes From A Mongrel's DNA by
Lydia Hounat
. More details to follow.
Feb 8:
Postcards for Perec - 243 contemporary artist responses to the postcard messages of Oulipo virtuoso Georges Perec (1936-1982), curated by Linda Parr, is now being exhibited at Albert Sloman Library, University of Essex, Wivenhoe Park Colchester, CO4 3SQ until April 2023. Paul H. is one of those artists who responded.
Jan 31:
We're going to be publishing
Dreich Air
by Ben Carr with illustrations by Martin Hinchcliffe in 2023.
Jan 30:
Great Poem Brut event at Hundred Years Gallery, a tremendous venue which I hope we can perform at again . . . videos (courtesy of Steve Fowler, as always will be forthcoming). Here are some snaps of what was left after mine and Julia's performance . . .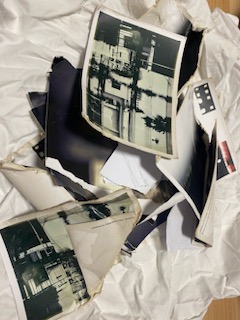 & this was also a launching event for Pat Cosgrove's BIROS 2 book. Pat performed brilliantly, as can be evidenced here:
Jan 29:
Poem Brut at
Hundred Years Gallery, London E2,
3.30pm, free Entry w/Laura Davis, Felix McNamara, Julia Rose Lewis, Paul Hawkins, Susie Campbell, Simon Tyrrell, Bob T Bright, SJ Fowler, Yoshiki Ukai and Mark Rutter alongside the launch of "Biros II" by Patrick Cosgrove from Hesterglock Press
Jan 11:
We're now in the process of vacating Eachwhat Studio premises situated at Unit 18, The Broadwalk Centre, Bristol BS4 2QU and re-locating. EWI Studio was made possible by
Hypha Studios
, a charity that matches artists with empty spaces. With Hypha Studios generous support Paul was able to use the Unit for 18 months or so, using it as a studio workspace, a gallery, a workshop space and for events. He was fortunate to hold a number of exhibitions, host & run workshops, launch books with readings/performances by a diverse bunch of artist/poets and run Hesterglock Press. See
here
for events etc that have happened in this former newsagents in Knowle, Bristol.
Jan 9:
Tim Gaze was interviewed by freelance journalist & writer Sam Woolfe, you can read
the interview here
Jan 14: Book launch - John Murry & Will Russell's Partial Leaves from The Book of John at Clifton Community Bookshop, BS8 early start 19:00 w/readings/music/provocations more to be announced

POSTPONED
Jan 3: modem has a new book out w/wakefield
handsfree by wakefield & modem (Steel Incisors 2023) a full colour, 40 page, perfect bound paperback £12:00 buy from publisher Steel Incisors
here
A 21st century visual poetry response to a classic of French Surrealism.
Dec 13:
Biros 2
by Patrick Cosgrove published by Hesterglock Press
Nov 26:
Cascade
by Tim Gaze was published by Hesterglock Press
Sept 15:

Paul was interviewed by Canadian poet/artist Amanda Earl for The Small Machine Talks Podcast

July 4:
We
publish
Partial Leaves from The Gospel of John Vol. 1
by John Murry & Will Russell