'Here is a light-footed intelligence, stepping syllabically through a specific rural world, whose roads and pylons and language keep reminding that this is not all that there is. Machines need fixing; moss that wraps branches is like 'a distant view of a green utopian city' and that too might need fixing.'
-John Hall on When it comes to letting go of the image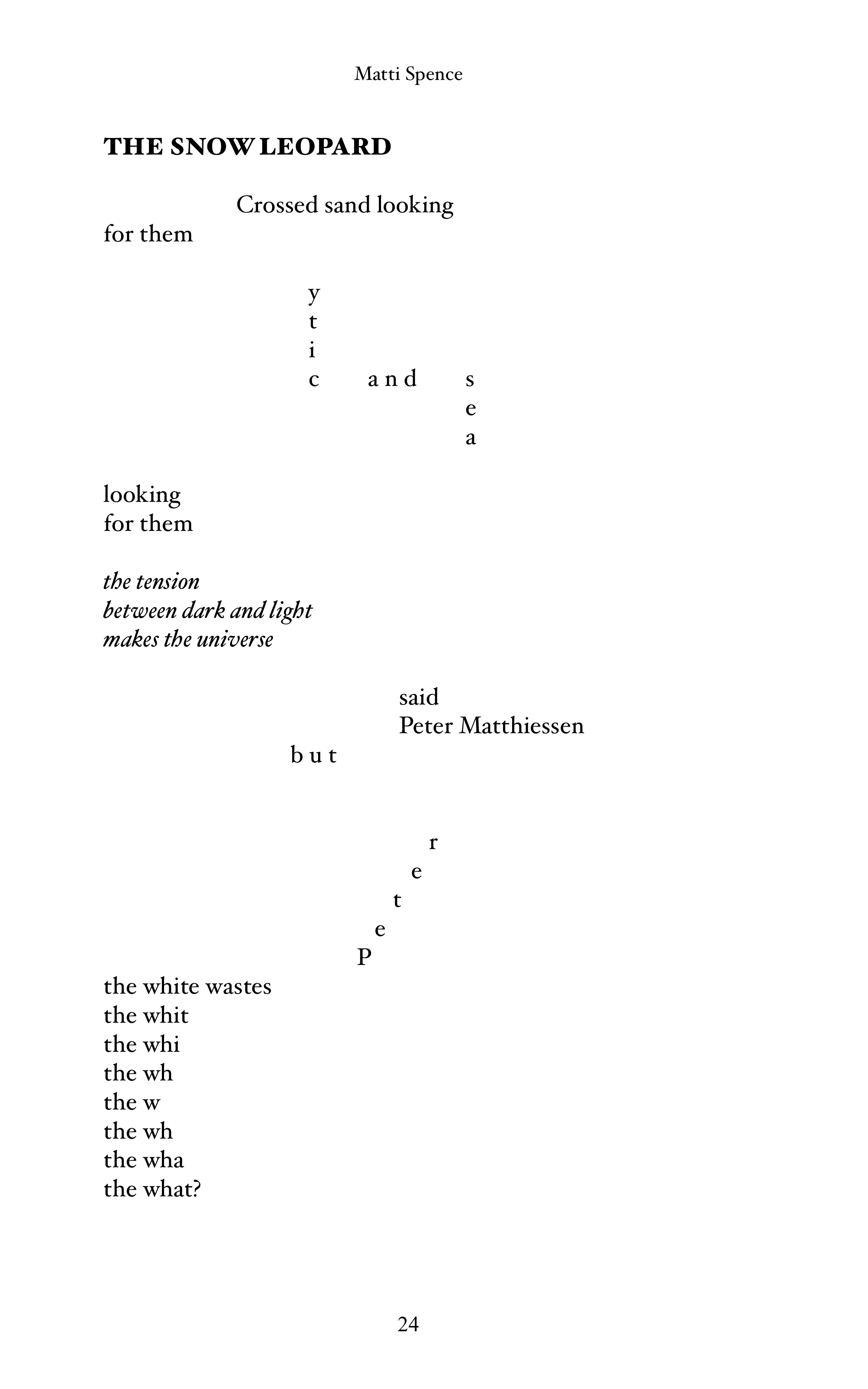 When it comes to letting go of the image
Matti Spence

130mm x 200mm paperback 2018
ISBN: 978-1999915353
38 pages
£7.50 buy

Here is a light-footed intelligence, stepping syllabically through a specific rural world, whose roads and pylons and language keep reminding that this is not all that there is. Machines need fixing; moss that wraps branches is like 'a distant view of a green utopian city' and that too might need fixing. This isn't a poet watching that world; this is a poet in it, using the resources, the accommodation to hand, and always, it seems, knowing when to stop.
- John Hall

When It Comes to Letting Go of the Image is an exercise in writing a living landscape. Matti Spence grows words out of his finely-tuned attention. His debut collection produces a 'place of dawn-with-a-straight-cut-fringe,' a 'place of corrugated waters' where poetry 'is there/for picking up in the arable muck clunk' and the 'rattle-hum of cattle scattering trains.' Spence's deftly inflected language pays homage to Harriet Tarlo's open field poetics and Mark Goodwin's broken line end. The range of experiments laid out in this book quietly, determinedly, establishes Spence's own space within this growing field of innovative landscape poetics.
- Camilla Nelson

Matti Spence grew up in Derbyshire and went on to study at Sheffield Hallam and the University of East Anglia. He is a Spiritual Ecology fellow for St Ethelburga's Centre and holds regular workshops on poetry, landscape and mindfulness across the South West. Matti is currently training as a counsellor and lives in his van at the edge of Dartmoor.