Hawkins, Modem & Glock

ARCHIVES

scroll down for -

i) Eventology

ii) Eachwhat Studio

iii) Performances (film)

iv) Audio work

v) Exhibitions



i) eventology: performances/readings/events 2023 Jan 29: POEM BRUT

at

One Hundred Years Gallery,

London E2

3.30pm, free Entry w/Laura Davis, Felix McNamara, Julia Rose Lewis, Paul Hawkins, Susie Campbell, Simon Tyrrell, Bob T Bright, SJ Fowler, Yoshiki Ukai and Mark Rutter alongside the launch of "Biros II" by Patrick Cosgrove from Hesterglock Press & more tba

15:00 start

Mar 17 - Mar 19

Postcards From Mental States

Paper & Ink Festival 2023

Landmark Arts Centre, Ferry Road, Teddington, TW11 9NN

Gas Lips & Stingbean from Postcards From Mental States by Julia Lewis & Paul Hawkins will be shown as part of the Living With Other People anthology (Corrupted Press) in a large Group Exhibition

MAY 6: NETHERLANDS POETRY CELEBRATION 19:30, FREE ENTRY AT

RICH MIX

LONDON E1 6LA w/MARIA BARNAS & AGNIESZKA STUDZINSKA, SASJA JANSSEN & PRUDENCE CHAMBERLAIN-BUSSEY, LORI WIKE & ANTHONY ETHERIN, WILL RENE & VICTOR REES, SJ FOWLER & NICK ROTH, MARK COVERDALE & JULIA ROSE LEWIS, TATIANA FAIA & SIMONA NASTAC ONDŘEJ MACL & PAUL HAWKINS. CURATED BY SJ FOWLER. 'PART OF NEW DUTCH WRITING, PRESENTED BY THE DUTCH FOUNDATION FOR LITERATURE' for the

EUROPEAN POETRY FESTIVAL 2023

JUNE 3: POEM BRUT AT OPEN EALING UNIT 14, SCHOOL LANE, DICKENS YARD LONDON W5 2TD W/AGATA MASLOWSKA, SAFIA KAMEL, JULIA ROSE LEWIS, RONA LUO, PAUL HAWKINS, MICHAEL SUTTON, DAN POWER, CAMERON WADE, MATT SOKULSKY, MARK RUTTER, RICHARD MARSHALL PLUS THE POPOGROU COLLECTIVE (VICKI KAYE, BEV FRYDMAN, SIMON TYRRELL, BOB T BRIGHT). THIS EVENT WILL ALSO SEE THE LAUNCH OF SJ FOWLER'S 'RECENTLY ATTRACTED REALITY INFLUENCERS' FROM OVERGROUND UNDERGROUND PRESS.

2022Jan 19 - Feb 3:

Linda Parr's

Postcards for Perec

is now installed in

The Street Gallery

at the Locksbrook Campus of Bath Spa University. I've a piece of work on this touring group exhibition.

Feb 1 - March 15 2022 - ARTIST BOOK EXHIBITION

I'm the featured artist in the Bower Ashton Library showcase at the Centre For Print Research, UWE, Bristol, UK - for details on the exhibition, open daily 9 - 5pm, download the latest Book Arts Newsletter

hereFeb 23:

Bill Drummond conducted a

Forty Minute Interview

with me at Eachwhat Studio, #bristol

March 10:

Centre For Print Research Print in Conversation with Angie Butler and Paul Hawkins in the Print/Publishing space, C Block, Bower Ashton campus, UWE, Bristol, 12.30-1.15. Publishing, Poem Brut, Eachwhat Industries and much more. Free, all welcome.

March 26 - April 27:

Holding Patterns

w/ Julia Rose-Lewis print exhibition at Eachwhat Studio

April 2: Holding Patterns

book launch w/Julia Rose-Lewis, Sarer Scotthorne, Peter Jaeger, Andres Anwandtner & Paul Hawkins

June 4:

HANDSFREE

book preview & print exhibition opening event w/Wakefield & Modem, Sarer Scotthorne, Emma Filtness, Stephen Sunderland, Nic Stringer, Dan Power, Chris Boyland, Vanessa Onwuemezi, Richard Biddle & James Knight FREE 16:30

2021 Jan 27: Insect Sleep Under Birdsong:

A collaboration between visual artist/poet Paul Hawkins and poet/sound artist Peter Jaeger commissioned by Writers Centre Kingston - new poetry-films commissioned in Covid-19 Lockdown in lieu of their normal new years events program.

June 10:

19:00 A City of London Poem Brut event w/Saradha Soobrayen, Richard Marshall, Susie Campbell, Martin Wakefield, Chris Kerr, Dan Power, Denise Bonetti & more TBA

June 11:

16:00 - A Poem Brut event by the Thames in Kingston w/Bob Bright, Julia Lewis, Jacqui Ennis Cole, Saradha Soobrayen, Susie Campbell, Patrick Cosgrove & more TBA

June 17:

Photo Poetry SURFACES

exhibition opening night of exhibition and catalogue launch part of the Bristol Photo Festival 2021 - a Zoom event starting at 19:00 BST with a Panel Discussion with Chris McCabe, Jon Nicholls, Federica Chiocchetti & David Solo & Performances/Discussion with Liz Berry / Tom Hicks, Astra Papachristodoulou, James Knight, Laurent Chevalier, SJ Fowler, Sarah Cave / Dragana Jurisic, Paul Hawkins & Vik Shirley

more info

June 17 - present:

Photo Poetry SURFACES online group exhibition - part of the Bristol Photo Festival 2021. featuring works by Liz Berry / Tom Hicks, Jamila Lyiscott / Laurent Chevalier, Vik Shirley, Silje Ree, James Knight, Astra Papachristodoulou, Sarah Cave / Dragana Jurisic, Amak Mahmoodian, Sophie Herxheimer / Chris McCabe, Paul Hawkins & SJ Fowler / Bård Torgersen.

Curated by David Solo, Astra Papachristodoulou & Paul Hawkins. ︎︎︎

more infoJuly 1 - Aug 31:

Postcards for Perec

at UWE, Bower Ashton Library, Bristol. In the 40th anniversary of the passing of Georges Perec, new postcards have been made in response to Perec's 1978 work

Two Hundred and Forty-three Postcards in Real Colour.

I'm a contributor in this brilliant, timely group exhibition.

Aug 2:

BRLSI

, Bath - SJ Fowler Bastard Poems book launch event - more details tbc

Aug 14:

Pre-launch of Seen as Read (KUP, 2021) anthology at Open Ealing Arts Centre, Unit 14, School Lane, Dickens Yard, London W5 2TD feat. Chris Kerr, Beverley Frydman, Susie Campbell, Paul Hawkins, Vicki Kaye, Lynette Willoughby, Madelaine Culver, Martin Wakefield, Agnieszka Studzinka, Simon Tyrrell, Patrick Cosgrove and maybe David Hayward, Sylee Gore & Laura Davis more TBC

Sept 11 - Nov 11:

Postcards for Perec

at Winchester School of Art. In the 40th anniversary of the passing of Georges Perec, new postcards have been made in response to Perec's 1978 work

Two Hundred and Forty-three Postcards in Real Colour.

I'm a contributor in this brilliant, timely group exhibition.

Oct 6: NO POETRY DAY

more detailsOct 12:

Lunchtime Poetry Without Words

event at UWE, Bower Ashton library

12.00–1.00: find out about Poem Brut and Poetry Without Words artists and their work with film screening and commentary. Part of The Printed Poetry Symposium. Free.

Oct 15: Poem Brut in Bristol

The second launch of

SJ Fowler's 'Bastard Poems' from Steel Incisors Press

and '25 poems' from AB Press / Nomad Letterpress at 18:30 - 20:45 at EACHWHAT INDUSTRIES STUDIO, Unit 18, The Broadwalk Centre, Knowle, Bristol BS4 2Q. With readings and performances from Paul Hawkins, James Knight, Vicki Kaye, Sarer Scotthorne, Peter Jaeger, Dominic Jaeckle, Angie Butler, Susie Campbell, Simon Tyrrell, SJ Fowler, Tom Weir, Aaron Kent, Martin Wakefield and more. An extraordinary group of poets, writers and artists, all based in the Bristol area region, present an evening of new experimental literary performance works, made for the night. A true range of what's possible in contemporary British-based poetry will celebrate collage, liveness and textual play. Free entry with a booktable with books for sale

Oct 19: Writers Kingston event #44
The Seen as Read Anthology Launch

with readings and performances by Chris Kerr, Rushika Wick, Susie Campbell, Simon Tyrrell, Richard Biddle, Mikael Buck, Paul Hawkins, Vicki Kaye, Martin Wakefield, SJ Fowler. 7pm start in the Town House Building : Courtyard Venue55-59 Penrhyn Rd, Kingston upon Thames KT1 2EE

Enter the building and take a right at the front desk. Ask at reception for Writers Kingston event - Entrance FreeNov 9: New book launches at POEM BRUT in Kingston

, The Townhouse Courtyard, Penrhyn Rd, Kingston upon Thames KT1 2EE, UK - celebrating new books by Chris Kerr, Patrick Cosgrove & Martin Wakefield, with much more to be announced

Nov 28:

Beir Bua Press published ︎︎︎

Holding Patterns

a selection of a place/space collaborative project with Julia Rose Lewis. Get a copy

hereDec 4:

NEW AGENTS PRINT EXHIBITION opening

feat. breadtrain, Steve Ryan, Super Art Asset Collective, Anon Holmes, OPTIKA, infanzia al peperoncino at Eachwhat Industries Studio, Bristol until Jan 17 2022

Dec 10:

Beir Bua Press book launches w/Julia Rose Lewis & Paul Hawkins, JP Seabright, Templeton Moss & Andrew Rihn on Zoom at 8pm, register for tickets

here2020

Jan 29:

Temporary Spaces

exhibition launch night featuring music and performances from some of the contributing poets involved in the show. Contributing artists and poets include Sarah Dawson, Paul Hawkins, Silje Ree, Claire Collison, Stephen Emmerson, James Knight, Michelle Penn, Simon Tyrrell, Astra Papachristodoulou and Nic Stringer. FREE entry/£3 suggested donation w/chance to buy a unique exhibition catalogue published by Pamenar Press

Feb 22:

Dostoyevsky Wannabe special launch event

for SJ Fowler's

I will show you the life of the mind (On prescription drugs)

(Dostoyevsky Wannabe 2020) at Rich Mix, Bethnal Green Rd, London. Featuring these DW authors; SJ Fowler, Christodoulos Makris, Nadia de Vries, Dominic Jaeckle, Andrew Hodgson, James Davies, Jessica Sequeir, Paul Hawkins, Colin Herd & Russell Bennetts

Feb 23:

launch event

for SJ Fowler's

I will show you the life of the mind (On prescription drugs)

(Dostoyevsky Wannabe 2020) w/ Nadia de Vries, Dominic Jaeckle, Andrew Hodgson, Jessica Sequeira, Christodoulos Makris, Paul Hawkins, Colin Herd, SJ Fowler and Russell Bennetts at the Toriano Meeting House, 99 Torriano Avenue, Kentish Town, London NW5 2RX

May 28 -

Fathomsun Press

curate an online launch for

Pomes & Joys - a celebratory anthology of poetry & essays for Anna Mendelssohn

starts 7pm. This anthology features contributions from Charlie Baylis, Sara Crangle, Stephen Emmerson, Joey Frances, Callie Gardner, Paul Hawkins, Linda Kemp, Lotte L.S., Tom Snarsky, Vicky Sparrow, and Florence Uniacke. Published on 18th May 2020 as a PDF // 45 pp, all proceeds donated to the Estate of Anna Mendelssohn ︎

BUY a copy

Aug 15 - Sept 5: NeoptiCo Collectiv launch exhibition + book launch Astropolis (Hesterglock Press, expanded 2nd edition) by Astra Papachristodoulou at Poem Atlas more details TBA curated by Astra Papachristodoulou & Paul Hawkins

Oct 30 – Nov 1:

Prague Microfestival

2020 Online INTERNATIONAL WRITING, ART, FILM, THEORY & PERFORMANCE – performing were: Nina Dragičević, Robin Mackay, Loretta Lau, Germán Sierra, Susan Tomaselli, John Trefry, Nataša Velikonja, Louis Armand, Jo Blin, Richard Makin, Yi Wei, Paul Hawkins, Sheila Mannix, Richard Marshall, Dragana Mokan, Márk Horváth, The Flatmates, Orkida Bracula, Valen Sandoval, Danny Huppatz, Simone Hutchinson, Artis Ostups, Kira Pietrek, Michael Rowland, Interior Ministry, Barry Wan, Adam Lovasz, Diffractions Collective, Vít Bohal, Dustin Breitling, Aleš Čermák, Sarer Scotthorne, Andrew J. Wilt, Roksan Mandel, Filip Pastula, Tomáš Hatala, Mark Divo, M.S. Mekibes, Blood, Love & Rhetoric, Phillip O'Neil, Tyko Say, Eli Anders, adO/Aptive, Daniel Hüttler, Márió Z. Nemez, Zsolt Miklósvögi, Cam Deas, The Syndicate & includes the launch of Monument by John Kinsella & Louis Armand (Hesterglock Press, 2020) full online programme

here

Dec 16 - The Weird Folds (Dostoyevsky Wannabe, 2020) online launch 8.00pm UK

2019

Feb 20: Camarade at The Museum of Futures – collaborative readings w/Sarah Dawson & Astra Papachristodoulou, Olga Kolesnikova & Yvonne Litschel, Lisa Kiew & Jacquelin Ennis Cole, Paul Hawkins & Martin Wakefield, Han Smith & Iris Colomb, Karen Sandhu & Vilde Valerie, Bjerke Torset, Mark Chamberlain & Ruby Wroe, Emilee Moyce & Joe Turrent, Susie Campbell. Plus readings from Julia Rose Lewis, Helena Artus, Marcia Knight Latter celebrating the launch of their Sampson Low Poetry Pamphlets.

March 15: ANATHEMA – experimental poetry in Bristol event w/ Pascal O'Loughlin, Sarah Cave , Paul Hawkins & James Knight £3 @ Storysmith Books, Bristol

April 25: Making Connections Conference – taking part in roundtable discussion panel & hack hour LCC, Elephant & Castle, London

June 20: original plus DUB anthology launch – The Pelican, Peckham, London w/Christian Patracchini, Richard Skinner, Iris Colomb, Sally-Shakti Willow, Dolly Turing, Paul Hawkins, Roy McFarlane, Lizzy Turner, Steven Mooney, Neil Sparkes, Rishi Dastidar, Patrick Davidson Roberts & Astrid Alben more tbc

July 8:

An invisible poetry : SJ Fowler and Poet's Brut Launch event

for a group show, featuring Chris McCabe, Karen Sandhu, Simon Tyrrell, Astra Papachristodoulou, Patrick Cosgrove, Vilde Valerie Bjerke Torset and Paul Hawkins, at the Poetry Society Cafe, London

July 1 – Aug 31:

An invisible poetry : SJ Fowler and Poet's Brut Exhibition

at The Poetry Society's Cafe : group show, featuring Chris McCabe, Karen Sandhu, Simon Tyrrell, Astra Papachristodoulou, Patrick Cosgrove, Vilde Valerie Bjerke Torset and Paul Hawkins.

July 13:

Poem Brut at Rich Mix #

12, 35-47 Bethnal Green Road, London E1 also the launch of Unfinished Memmoirs of a Hypocrit by SJ Fowler – Lisa Kiew, Patrick Cosgrove, Mischa Foster Poole, Harry Man, Vilde Valerie Vilde Torset, Paul Hawkins, Simon Tyrrell, Michael O'Mahony, SJ Fowler, Rushika Rush, Maria Sledmere and more poet-artists to be announced soon

July 25:

Unfinished Memmoirs of a Hypocrit book launch II

+ Hesterglock/Prote(s)xt Press event at the Mayday Rooms, 88 Fleet Street, London EC1 w/performances & readings from SJ Fowler, Pascal O'Loughlin, James Caley, Katy Wareham Morris, David Turner, Matthew Turner, James Knight & Sally-Shakti Willow

July 25 – 28: WOMAD Festival Paul Hawkins & Neil Sparkes plus special guests LIVE on RADIO WOMAD during the World of Music, Arts & Dance at Malmesbury, Wilts, UK. To promote our recent ground-breaking anthology

original plus DUB

Paul & Neil will be talking about the dub remix anthology & reading work with

Snazzback

's Myke Vince on water cooler & pandero plus

Run Logan Run

's Andrew Neil Hayes on sax.

Oct 4: Penteract Press Book launch w/ Anthony Etherin, Mary Frances, James Knight, Mark Saltveit, Claudia Danierie, myself & more TBC at The Swan, Cheltenham, 7pm

Nov 9:

Zugunruhe

by Martin Wakefield to be launched as part of

Poem Brut at Rich Mix #6

, London w/new performances/commissions by Kathy Pendrill, Richard Marshall, Jacqueline Ennis Cole, Khaled Hakim, Lizzy Turner, Paul Hawkins, Martin Wakefield, Mischa Foster Poole, Saradha Soobrayen and Lisa Alexander.… from 7pm, free entry

Nov 30: C R A S H a new experimental poetry event feat. Vik Shirley, Matt Haigh, Sarah Cave, James Knight & Paul Hawkins The Flute & Tankard, Cardiff, 19.30 free entry

2018

Jan 13:

HARD TO READ

– Collected Paint Poems, Pansemia, Cinematic Drawings and Logograms of SJ FOWLER. A special evening performance to launch SJ Fowler's Aletta Ocean's Alphabet Empire (Hesterglock Press) w/ Featuring new performances by Paul Hawkins, Imogen Reid, Christian Patracchini, Patrick Cosgrove, Mischa Foster Poole, SJ Fowler and more. Rich Mix, 35 – 47 Bethnal Green Road, London E1 6LA

Feb 22 to March 21: VISUAL POETRY EXHIBITION 2018: SCRIBBLING AND SCRAWLING at MUSEUM OF FUTURES, 117 Brighton Rd, Surbiton KT6 5NJ. Featuring works by Alan Boyce, Daniele Pantano, Paul Hawkins, Julia Rose Lewis & many more tba. Curated by Molly Bergin, Yvonne Litschel, Shelisha Johnson, Silje Ree, Vilde Torset & SJ Fowler

March 7: launch of Cocktail Kafkaine by Mustapha Benfodil / Joe Ford (trans.) Mustapha Benfodil reading & in conversation at The Parkinson Building, University of Leeds, Woodhouse Lane, LS2 9JT Room: Parkinson SR (1.08) Time: 17:00-19:00. Published by Hesterglock Press

March 17:

Poem Brut at Rich Mix II

35-47 Bethnal Green Rd, London E1 6LA. Featuring new work from Chrissy Williams, Lavinia Singer, Matvei Yankelevich, Julia Rose Lewis, Julia Schuster, Olga Moskvina, Oliver Mayeux, Mischa Foster Poole, Ruhi Parmar Amin, Andre Bagoo and more. The event will also mark the launch of a new #poembrut publication: hiromi suzuki's logbook, published by Hesterglock Press. The event is free, 7pm for a 7.30pm start

April 21: Non-normative Poetry Bookfair for presses publishing work that pushes through boundaries of the normal, whether that's sociopolitical normal, gender norms, or formal norms of poetry. Inc. Crater, Veer, Contraband, London Materials/Splinter, Carnaval Press, Knives, Forks and Spoons, Spanner, Tipped Press, homebakedbooks, Hesterglock, Zarf, Stinky Bear Press, Singing Apple Press, Lumin Journal, Great Works, Johan de Wit, Shearsman & more tbc. There are readings every hour on the hour. Starts 12 noon at T.Chances 399 High Road, N17 6QN London, UK

April 26 – July 1, National Poetry Library, Southbank Centre, London artwork of mine fragiles (07) is included in the world's first Instagram poetry exhibition, showcasing the best of over 1,000 Instapoetry submissions

more info

April 28: Dostoyevsky Wannabe Cities: Bristol & Lou Ham book launch at Rough Trade Records, Bristol 2.30pm FREE with Lizzy Turner, Clive Birnie, Vik Shirley, David Turner, Sarer Scotthorne & me & I'll be launching Lou Ham:RAS more details

here

May 5: Hesterglock / Poem Brut @ Spike Island A Spike Island Open Studios event with pop-up art exhibits, the making of a communal cut-up art poem, films, mass participation readings, interactions, performances, books for sale. Curated by Paul Hawkins feat. Sarer Scotthorne / Christian Patracchini / Isadora Vibes / David Turner / Vik Shirley / Peter Jaeger / Camilla Nelson / Clive Birnie / Lizzy Turner / Liz Zumin / Paul Hawkins. Spike Island 133 Cumberland Road, Bristol BS1 6UX.1.30 – 5.00 FREE ENTRY

June 6: Poem Brut at National Poetry Library Featuring new work from Maja Jantar, Saradha Soobrayen, Chrissy Williams, Paul Hawkins, Patrick Cosgrove, SJ Fowler and more. Southbank Centre, Belvedere Road London SE1 8XX Free entry – 7pm

More info

September 27: DW at Housmans Radical Bookshop Readings by Dostoyevsky Wannabe authors w/Rosie Snajdr, Bertie Marshall, Lara Alonso Corona & Paul Hawkins. 19.00 £3 – Housmans Radical Bookshop, 5 Caledonian Road, King's Cross, London N1 9DX

Nov 10: Poem Brut at Rich Mix new work from Susanna Crossman, Nathan Walker, Sarah Dawson, Peter Surkov, Ryan Mihaly & Karolina Zapal, Martin Wakefield, Arturo Desimone, Alban Low & Kevin Acott, Dovydas Laurinaitis. James Caley & Abi Palmer. PLUS the launch of the softcover edition of

Aletta Ocean's Alphabet Empire

(Hesterglock Press) by SJ Fowler & James Caley's

4 Steps from the Wire

(Prote(s)xt). Copies will, naturally, be on sale – from 7pm – free entry Rich Mix, 35-47 Bethnal Green Rd, London E1 6LA

November 22: the ZENO PRESS launch of

FELT – AESTHETICS OF GREY

at LOUIE LOUIE 347 Walworth Road, London SE17 2AL – w/ readings from FELT contributors Ansgar Allen, Paul Hawkins, Richard Webb & Rob Miller and readings by Zeno Magazine contributors Daniel Fraser, Matthew Turner & Andrew Milward. 20.00, free entry

2017

Feb 25: #Anathema #1 a new reading series for experimental writing in Bristol, curated by Moot Press + Hesterglock Press + Sad Press w/JR Carpenter, Felix Bazalgette, Rowan Evans, Sarah Hayden, Lila Matsumoto, paul hawkins, Camilla Nelson & Tony White BOOK TABLE + DRINKS // 7.00 for 7.30pm start // ALL WELCOME @ Hamilton House, 80, Stokes Croft, Bristol BS1 3QY

March 31: #Anathema #2 18:30 The Light Room at the Arnolfini 16 Narrow Quay, Bristol BS1 4QA w/ Redell Olsen, Iain Morrison, Anne-Laure Coxham, nick-e melville, [Sub]Atomic / Sally-Shakti Willow & Joe Evans entry by donation

April 6: Arnolfini, Bristol 19:00 free, The launch of SJ Fowler's latest poetry collection 'The Guide to Being Bear Aware' from Bristol-based Shearsman Books, featuring performances and readings from Fowler and guest readers John Hall, Holly Corfield Carr, Paul Hawkins, Phil Owen & more to be announced more info

here

May 30: The Square Club, Bristol Erbacce Press w/Sarer Scotthorne, Matt Duggan, Paul Hawkins, Sam Smith & Monica Kostera at 15 Berkeley Square, Clifton, Bristol, BS8 1HB where a mass audience reading of Place Waste Dissent was recorded

June 21-24: diisonance exhibition of collaborative prote(s)xt art by Steve Ryan & Paul Hawkins, Bank Street Arts, Sheffield

June 23 14:00 – 16:30 cost £5 ltd. places – Paul Hawkins & Rowan Evans running a workshop on creating experimental collaborative poetry – all attending will be invited to read their new work at the evening event, and included in Diisonance to be published by Hesterglock Press. contact Paul to book a place and for more info: hesterglock at gmail dot com

June 23 Diisonance – 18.30 experimental collaborative poetry & performance at Bank Street Arts – Sarer Scotthorne, Miggy Angel, Rowan Evans, Leire Barrera, Dan Eltringham, Linda Kemp, Roy McFarlane, Paul Hawkins & Emteaz Hussain. Free entry

Sept 1 – 30: diisonance exhibition @ The Gallery Cafe, 21 Old Ford Rd, London E2 collaborative artworks: Steve Ryan & Paul Hawkins

Sept 8: Diisonance book launch w/ special guest Gary Budden, Sarer Scotthorne, Roy McFarlane, Tony White & Paul Hawkins. Entry by donation. The Gallery Cafe, Old Ford Road, Bethnal Green, London

September 29: hesterglock press // caplet collaboration @ The Gallery Cafe, 21 Old Ford Rd, London E2 poetry & dialogue w/ Jonathan Mann, Jude Cowan Montague, Matti Spence, Luna Montenegro, Iris Colomb & Paul Hawkins + improvised sounds from

The Happy Couple

November 17: The 15th Ars Poetica International Poetry Festival at the A4 Space for Contemporary Culture / Karpatská 2, Bratislava feat. 6pm / WOW! A theatrical play with poetry present in full force… Premiere of the English version, by the Debris company (SK) Voiceover Ron Padgett (USA) poetry from Eleni Cay (SK/GB), Paul Hawkins (GB), Aurélia Lassaque (FR), Petr Borkovec (CZ) & Zsuzsa Emese Csobánka(HU) & special guest of the night: Titilope Sonuga (CAN/NE) spoken word performance more details here

Ars Poetica

October 11: Satellite of Love inc. Jude Cowan Montague, Paul Hawkins and more tbc 8.15pm at The Greenbank Pub 57 Bellevue Road Bristol BS5 6DP

November 24: Hesterglock | Moot | Sad co-curate ANATHEMA 10 experimental poetry & performance w/ Carrie Etter, Jonathan Mulcahy, Meghan McKeague, Justin Katko & Lucy Beynon @ the Arnolfini, Bristol

November 25:

Poem Brut

, featuring new work from Harry Man, Imogen Reid, Stephen Emmerson, Hiromi Suzuki, Lotje Sodderland, Paul Hawkins, Chloe Spicer, Kate Wakeling and more. The event will also be the launch of SJ Fowler's book I fear my best work behind me with Stranger Press. The event is free, doors at 7pm.

Rich Mix

, 35 – 47 Bethnal Green Road, London E1 6LA more tbc

December 15: Hesterglock | Moot | Sad co-curate

ANATHEMA

11 experimental poetry & performance w/ Rhys Trimble, Iris Colomb, Amy McAuley more tbc 6.30pm @ the Arnolfini, Bristol.

2016

Feb 27: Resonance FM The News Agents 2:30pm – 3:30pm. Paul hawkins on The News Agents show on eclectic arts radio Resonance FM again talking about radical housing, squatting, protest as well as reading from my recent Influx Press book Place Waste Dissent. Resonance FM is a groundbreaking 24/7 radio station which broadcasts on 104.4 FM to central London,

DAB to Greater London

, nationally on

Radioplayer

and

live streamed

to the rest of the world. Realised by a dedicated community of volunteer engineers and programme-makers, Resonance offers over 100 creative broadcast series every week featuring local and international artists, makers and experts. You can listen in

here

March 9:

Satellite of Love

w/Sarer Scotthorne/Matt Duggan/Malaika Kegode/Wendy Young/Grace Palmer/Angela Brooks/Ellie Burmistre/Helen Sheppard/Omar Makessa 8.15pm at The Greenbank Pub 57 Bellevue Road Bristol BS5 6DP

March 13: SPEL alt poetry and acoustic music w/Paul Hawkins & more 8.30 at the Bristol Fringe Cafe 32 Princess Victoria St Bristol, free

March 17 – April 9: Place Waste Dissent at End||Begin 32 City Arcade, Coventry, CV1 3HW. The highly anticipated group show of

Scratch the Surface Mental Health Arts Festival

, will showcase a selection of fifteen fine artists from across the UK who the Collective//Pod have worked with over the last 18 months. I'm proud to have an early draft manuscript of my Influx Press experimental poetry collage cut-up book Place Waste Dissent on exhibit. The manuscript was pasted and cut-up into a hand-made book by

Clara Quinion

, and I read from it at many events before the book was edited and then published in November 2015. End||Begin is co-curated by Collective//Pod members professional artist Martin Green and emerging artist Colin Oddy.

March 19: Servant Drone launch, Gato Vadio, Rua do Rosário,

281 4050-525

Porto 6pm :: Bruno Neiva & Paul Hawkins. Made possible by the generous support of the Porto/Bristol Association and are fully free

March 23: Page and Performance, w/Paul Hawkins & more @The Cross Hands, Fishponds Bristol 8pm free

March 25: Servant Drone launch, Bloom & Curll Bookshop, 72 Colston Street Bristol BS1 5BB 6.30pm :: Paul Hawkins & Sarer Scotthorne. Made possible by the generous support of the Porto/Bristol Association and are fully free

March 26:

InZine #5

The Pod, Coventry CV1 4AE 12 – 5pm Paul Hawkins + Sarer Scotthorne + Dan Duggan + Zine Fest/film/exhibition – part of

Scratch the Surface Mental Health Arts Festival

April 10: SPEL alt poetry and acoustic music w/Paul Hawkins & more 8.30pm at the Bristol Fringe Cafe, 32 Princess Victoria St Bristol, free

May 11:

Satellite of Love

w/ Paul Hawkins & more 8.15pm The Greenbank Pub 57 Bellevue Road Bristol BS5 6DP

May 29: SPEL alt poetry and acoustic music w/ Paul Hawkins & more 8.30pm at the Bristol Fringe Cafe, 32 Princess Victoria St Bristol, free

June 8:

Satellite of Love

Paul Hawkins & more 8.15pm The Greenbank Pub 57 Bellevue Road BS5 6DP fund raiser for

Bristol Refugee Rights

June 22: Riot, Resistance & The Contested Future 7:30pm an evening of spoken-word, film & discussion in response to Jimmy Cauty's #ADPRiotTour installation with poets Paul Hawkins, Sam Berkson, a short screening from Riots Reframed, Sheila Menon from #heathrow13, Jimmy Cauty,

L-13

's Steve Lowe and me at Unit 6, Imperial Works, Fountayne Road, London N15 4QL free

July 28: Speech Therapy w/Paul Hawkins 7 more + open mic @ The Chameleon Arts Cafe, 17 Angel Row, Nottingham, NG1 6HL, free 7.30pm

September 24: Bristol Poetry Festival w/Erbacce press poets Sarer Scotthorne, Paul Hawkins & more 7:00pm at Bloom & Curll Bookshop, 72 Colston Street, Bristol. Entry: buy a book from Bloom & Curll

August 6:

Enemies Project

, Paul Hawkins & Lucy English + many more @

Bath Royal Literary and Scientific Institution

16-18 Queen Square, Bath BA1 2HN

01225 312084

7.00pm doors for a 7.30pm start. Entrance free

October 1: w/

Run Logan Run

,

Kit Williams Fergradoe

,

Sarer Scotthorne

, Spindle Ensemble & Paul Hawkins w/

Rowan Evans

at The Church of St John the Baptist, Broad Street Bristol BS1 2EZ 7:30 – 11pm, £5.00 click here:

limited to 50, booking essential

refreshments by

Nourish Me

. This event is part of the Bristol Poetry Festival

Oct 6: Bank Street Arts 6pm – 8pm free entry – Paul Hawkins reading from Place Waste Dissent and screening Blight, a film by John Smith with the soundtrack by Jocelyn Pook

October 5 – 8: Place Waste Dissent Exhibition, daily 11am – 4pm free at

Bank Street Arts

, 32-40 Bank Street, Sheffield S1 2DS. An exhibition of text & prints by Paul Hawkins Steve Ryan from the

Influx Press

book Place Waste Dissent, there will also be readings from Place Waste Dissent and film screenings of Life In The Fast Lane: The No M11 Story (dir: Neil Goodwin, Mayyasa Al-Malazi) & Blight (John Smith/Jocelyn Pook)

November 19: Gullivers Lounge, Manchester Launch of The Secret of Good Posture (Team Trident Press 2016) w/Paul Hawkins, Sarer Scotthorne, Dan Eltringham & Pippa Nayer £3 @ 7:30pm

October 28: Bristol Festival of Literature w/Erbacce Press poets 7:30pm at The Phoenix Cafe, All Saints Street, Broadmead, Bristol BS1 2LZ

November 25: Bloom & Curll Books, Bristol Launch of The Secret of Good Posture w/Paul Hawkins & Rowan Evans 7:30pm

2015

Jan 21: The Twisted Teapot Boscombe w/ Jonny Fluffypunk, Markie Burnhope, Paul Hawkins, Myriam San Marco, Sarer Scotthorne, Julia Boore & Barbara Donne – Bosc:Rev Issue 3 launch

March 21: Resonance FM guest on The News Agents show, w/Paul Hawkins & Sarer Scotthorne

Feb 21: Mr Wolf's Bristol w/Schoolboy's Death Trio, Paul Hawkins & more

June 26:

Mahu Influx

at The

Hardy Tree Gallery,

Kings Cross, London. 7.30pm free entry

A night of eclectic readings from Influx writers and editors, taking in New York stories from Linda Mannheim, experimental squat poetry from Paul Hawkins, tales of light invading the dark by Clare Fisher, plus readings from Influx editors Kit Caless and Gary Budden

August 20: The Inspire Bar, Coventry Hesterglock Press launch of Margaret Thatcher's Museum by Antony Owen w/Antony Owen, Paul Hawkins & Sarer Scotthorne

September 5: Vogue Fabrics, Dalston London: MAINTENANT 9: A JOURNAL OF CONTEMPORARY DADA WRITING AND ART UK launch w/Paul Hawkins & many more

Inzine Fest IV at The Pod in Coventry with Antony Owen, Paul Hawkins, Thomas MacColl, Sarer Scotthorne, Simone Estridge, Adam Steiner + more. Free

Oct 29 – Nov 21: Temple Church Bristol

Sanctum

Paul hawkins will be doing five solo performances; four reading Place Waste Dissent from cover to cover and the fifth, a red-eye 2 hour marathon, reading from Claremont Road, Contumacy, Place Waste Dissent and Servant Drone. This autumn, a remarkable structure is rising up from within the bombed out remains of Temple Church in Bristol. For 24 days, this 14th century site is being transformed into an intimate gathering place in which to hear the city like never before. Chicago-based artist Theaster Gates was invited by Bristol arts producer, Situations, to create his first public project in the UK as part of Bristol 2015 European Green Capital. The artist has sought out discarded and dormant materials from former places of labour and religious devotion across Bristol to build an intimate and distinctive temporary structure at Temple Church. From 6pm on Thursday 29th October, Sanctum will host a continuous programme of sound over 552 hours until Saturday 21st November, sustained by performers, musicians and bands, spoken word artists and the visiting casts of theatre productions in Bristol.

Oct 27 – 30: Bournemouth Emerging Arts Fringe at Meyrick Hall, Bournemouth 12.00 – 4.00pm daily SIX Gallery are exhibiting prints of collage/text from Paul Hawkins' Influx Press collection Place Waste Dissent as part of their Line & Mass series, along with other work including Matthew Shaw – Alchemical Figure, Beatriz Brooks – A Castle for the Inner Child, Adam Popli – Asian Osmosis. Performances include: Flights of the Imagination, J.U.D.I.T.H by Marja Christians and DeCoda by David Nock. FREE.

Nov 10 – Dec 12: Place Waste Dissent Exhibition at The Arts House, 108A Stokes Croft, Bristol BS1 3RU

an exhibition of art & text featured in the collection

more info

Nov 21: 7.30pm Influx Press Bristol book launch at The Arts House, 108A Stokes Croft, Bristol BS1 3RU

more info

'Having spent three years in the early 1990s occupying properties and protesting in Claremont Road, east London, poet Paul Hawkins maps the run-off, rackets and resistance along the route of the proposed M11 Link Road. Using the voices of Dolly Watson and many others in avant-garde experimental text and lo-fi collage, he explores place, waste and dissent; the stake the Thatcher/Major Tory government was driving into the heart of the UK.' Join us at The Arts House celebrating the publication of 'Place Waste Dissent' and an accompanying month-long exhibition of art and text featured in the collection, with readings, a short film screening and a Q&A with the author. w/Paul Hawkins, Sarer Scotthorne & Sam Berkson

Dec 5: 7.00pm Influx Press Book Launch at the Brick Lane Bookshop 166, Brick Lane, London E1 6RU

more info

Join Influx Press at Brick Lane Bookshop celebrating the publication of our new title, 'Place Waste Dissent' by Paul Hawkins. Reading are: Paul Hawkins, Sarer Scotthorne, George F & Lucy Furlong. The event is FREE!! 7pm Signed books on sale on the night.

2014

Jan 27 – Feb 1: SIX Gallery Roumelia Lane Boscombe w/Andrew McCutchion (The Sidemen) curating Unprepared Piano

Feburary 28: SIX Gallery, Roumelia Lane, Boscombe Bournemouth: launch of Paul Hawkins' Claremont Road pamphlet w/Steve Rushden, Markie Burnhope & Sarer Scotthorne

March: Split collaboration w/Mark Lloyd

March 28: The Hydra Bookshop, Bristol w/Paul Hawkins & more

April 25: The Hydra Bookshop, Bristol w/Paul Hawkins & more

May 1: The Horse Hospital, London International Launch of Cut UP! Anthology w/Anne Pigalle, A.D. Hitchin, Nina Antonia, Billy Chainsaw, Paul Hawkins & Matthew Levi Stevens

May 2 & 3: Vita Nova Theatre, Roumelia Lane Boscombe Bournemouth performing w/Scott Lavene as Gunshot

May 31: The Saboteur Awards The Jericho Tavern Oxford with Lucy Ayrton, Tina Sederholm, Dan Holloway, Rose Drew, Florence O'Mahoney, Emily Cleaver, Thomas McColl, Lyndsay Waller-Wilkinson, Nichola Deane, David Clarke, John Clegg, Andrew Wynn Owen, Jacqueline Saphra, Ashley Stokes, Kate Garrett, May-Lan Tan, William Thirsk-Gaskill, Tim Wells, Rowena Knight, Paul Hawkins, Kirsten Irving, Kiran Millwood-Hargrave, Jenni Pascoe, Fay Roberts & Steve Nash

October 25: Camaradefest II at Rich Mix Arts Centre London: 100 poets in collaborative performances inc. Paul Hawkins with Mali Clements

2013

May 18: Brighton Fringe Festival as a member of The Sidemen (Paul Hawkins & Andrew McCutchion)

July 15 – 17: MIX 2 DIGITAL TEXT ON SCREENS BATH SPA UNIVERSITY, CORSHAM COURT CAMPUS 15TH-17TH JULY 2013

running Workshop 4: Transmedia Activism with Donna Hancox, Leverhulme Visiting Fellow, Bath Spa University & poet Paul Hawkins presenting locative storytelling project, Untold Boscombe

August 16: w/Paul Hawkins, Jane Cartwright & more The Shelley Theatre, Boscombe Bournemouth

Sept 13 & 14: Boscombe Fringe Festival w/

Flea – Paul Hawkins

/

St Anne's – Jane Cartwright

/

PAUSE. PLEASE. REWIND THE TAPE – Gail Cecil/ 612 Media

/

The Fridge – Simon McCormack

& more at Vita Nova, Roumelia Lane, Boscombe

Oct 5: Performance of Flea on Hope FM w/Paul Hawkins & more

December 13: live improvised performance of

Boscombe Suite Boscombe

at The Friends Meeting House Boscombe BH5 1AH The Music Room Band + w/Paul Hawkins & more

2012

July 2: With One Voice at The Royal Opera House – below a behind-the-scenes documentary about With One Voice – a performance showcase of 300 people who had experienced homelessness at the Royal Opera House on 2 July 2012. Part of the London 2012 Festival and in partnership with the Calouste Gulbenkian Foundation and Homeless Link, this was the first offical platform for homeless people in Olympic history. For more info visit

with1voice.org.uk

1979 – 2012

countless gigs in UK & Europe as bassist &/or guitarist with The Outfits, The Zapweeds, MilkPlus, Baby Groover, Cake, Big Tuna, The Roadbreakers, Backwash, Big Laundry Bill, The Music Room Band, Kat Haskard . . .

ii) Eachwhat Studio

We're now in the process of vacating

Eachwhat Studio

premises situated at Unit 18, The Broadwalk Centre, Bristol BS4 2QU and re-locating. EWI Studio was made possible by

Hypha Studios

, a charity that matches artists with empty spaces. With Hypha Studios generous support Paul was able to use the Unit for 18 months or so, using it as a studio workspace, a gallery, a workshop space and for events. Paul was fortunate to hold a number of exhibitions, host & run workshops, launch books with readings/performances by a diverse bunch of artist/poets and run Hesterglock Press. See below for events etc that have happened in this former newsagents in Knowle, Bristol.

EW Studio at Unit 18 was made possible by

Hypha Studios

, a charity that matches artists with empty spaces

PAST EVENTS June 6, 20, July 4, 18, Aug 1, 15, Sept 5 & Nov 21 ARTIMENTAL WORKSHOPS

@ Eachwhat Studio from 10:00 - 12:00, cost £5 per session

June 4
Wakefield & Modem - HANDSFREE

special book preview event w/Wakefield & Modem, Sarer Scotthorne, James Knight, Vanessa Onwuemezi, Emma Filtness, Stephen Sunderland, Nic Stringer, Dan Power, Chris Boyland, Richard Biddle & James Knight - expect film & poetry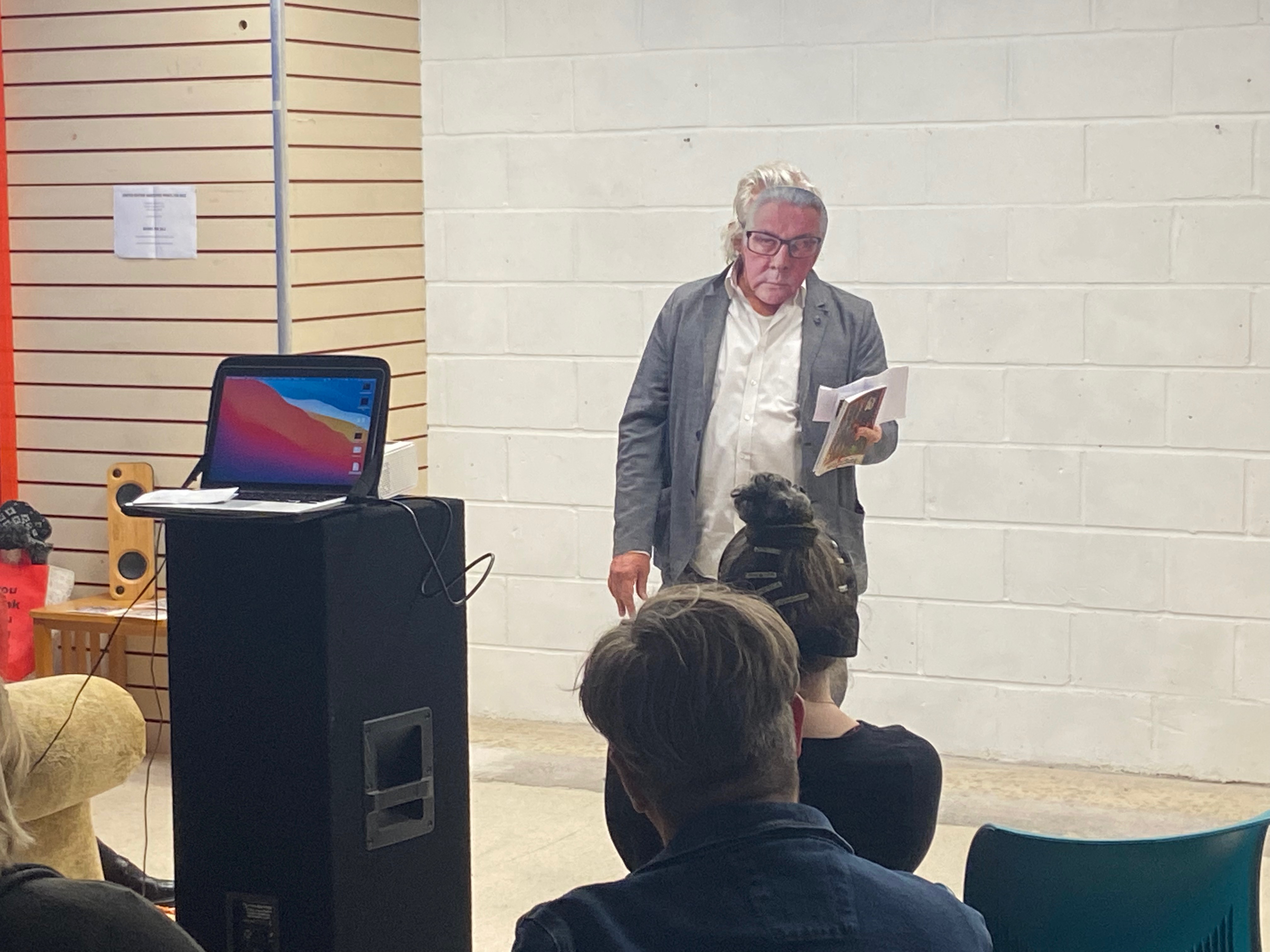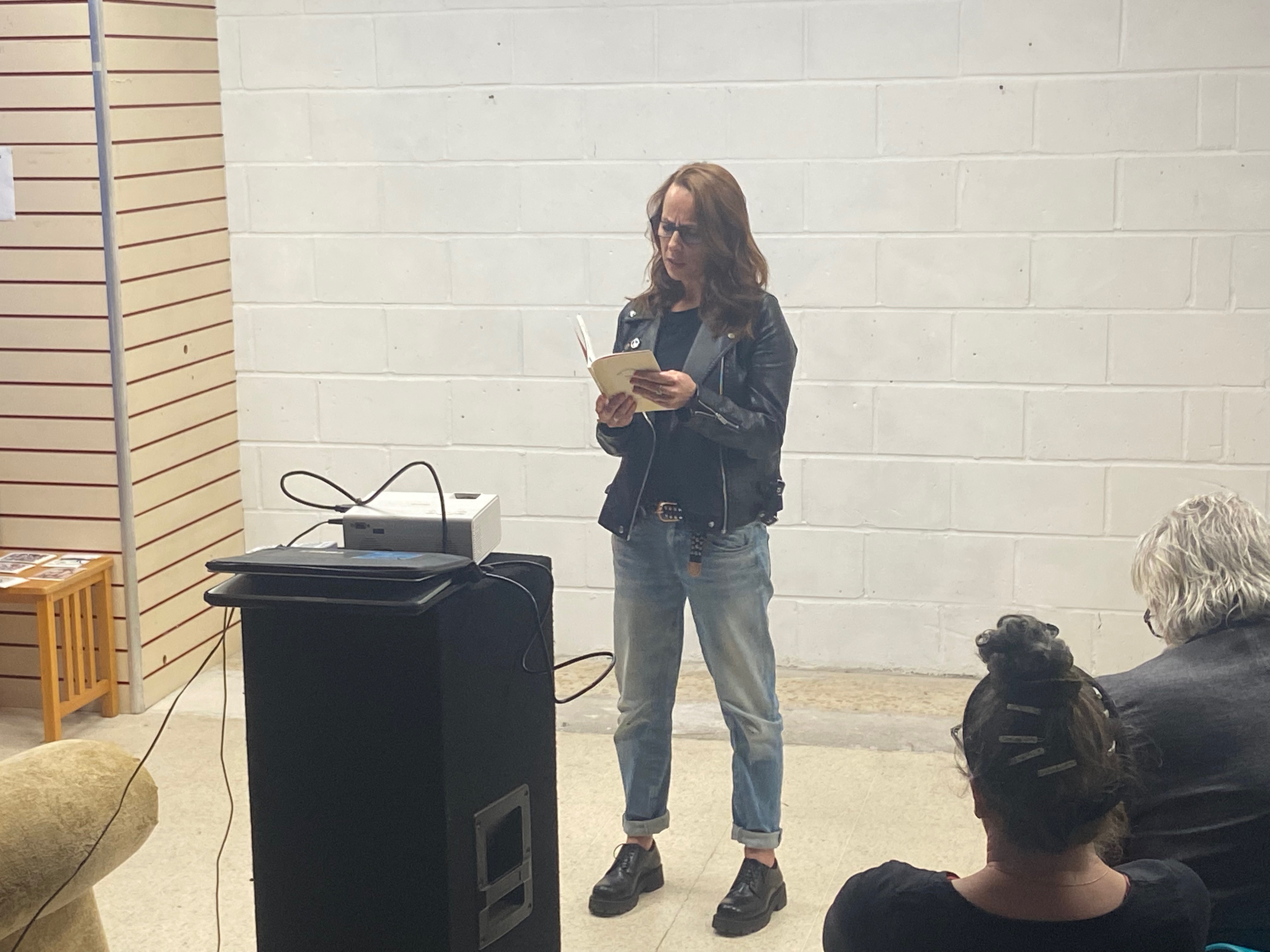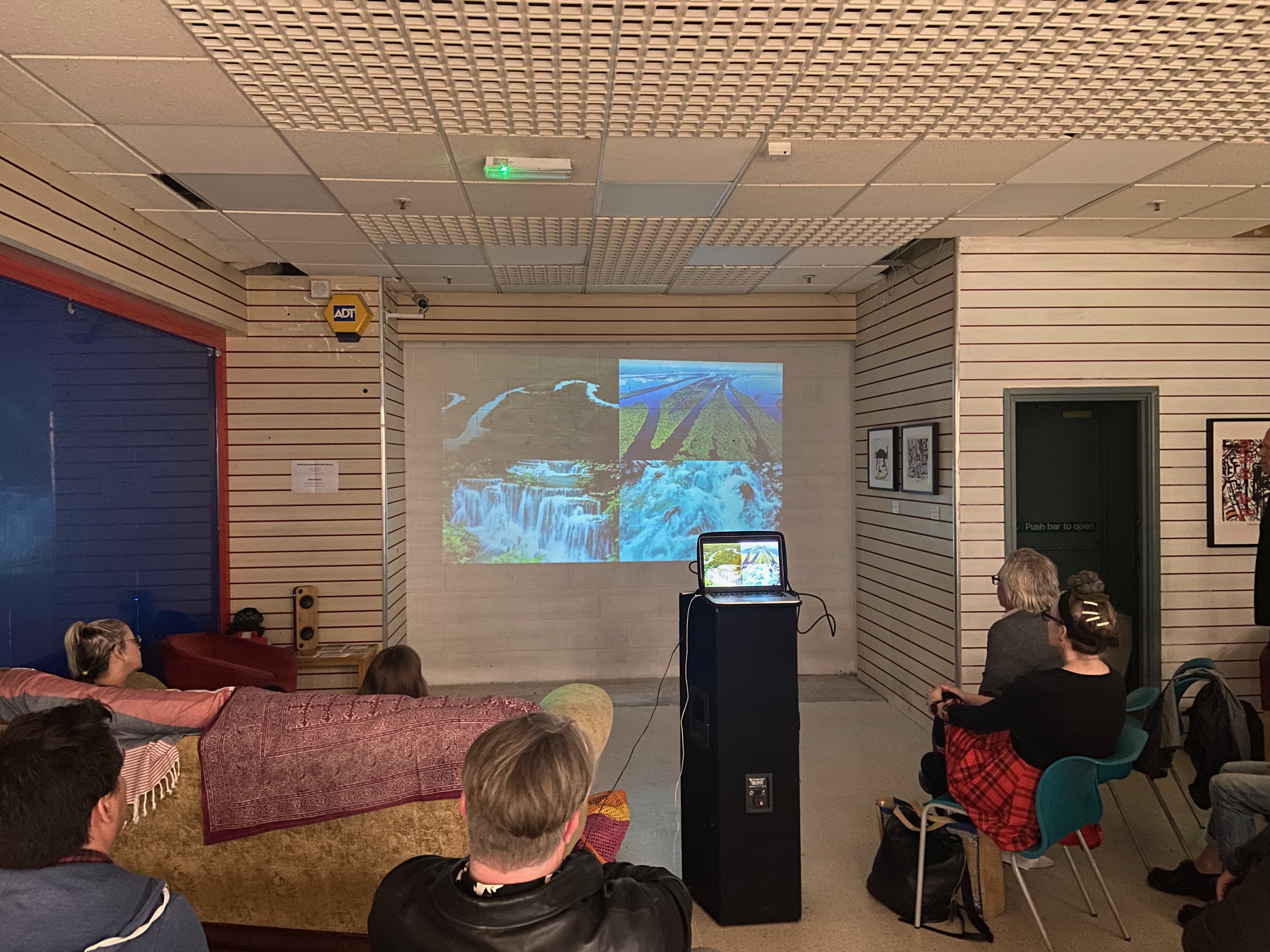 May 30 - Nov 21
Wakefield & Modem - HANDSFREE
Print exhibition
A 21st century response to Les Mains Libres by Paul Eluard and Man Ray. Bob Modem's deconstructions of Martin Wakefield's renderings of Paul Éluard's illustrations of Man Ray's drawings

Steel Incisors publish HANDSFREE in print form Jan 3, 2023
Prints and postcards available to buy
email Paul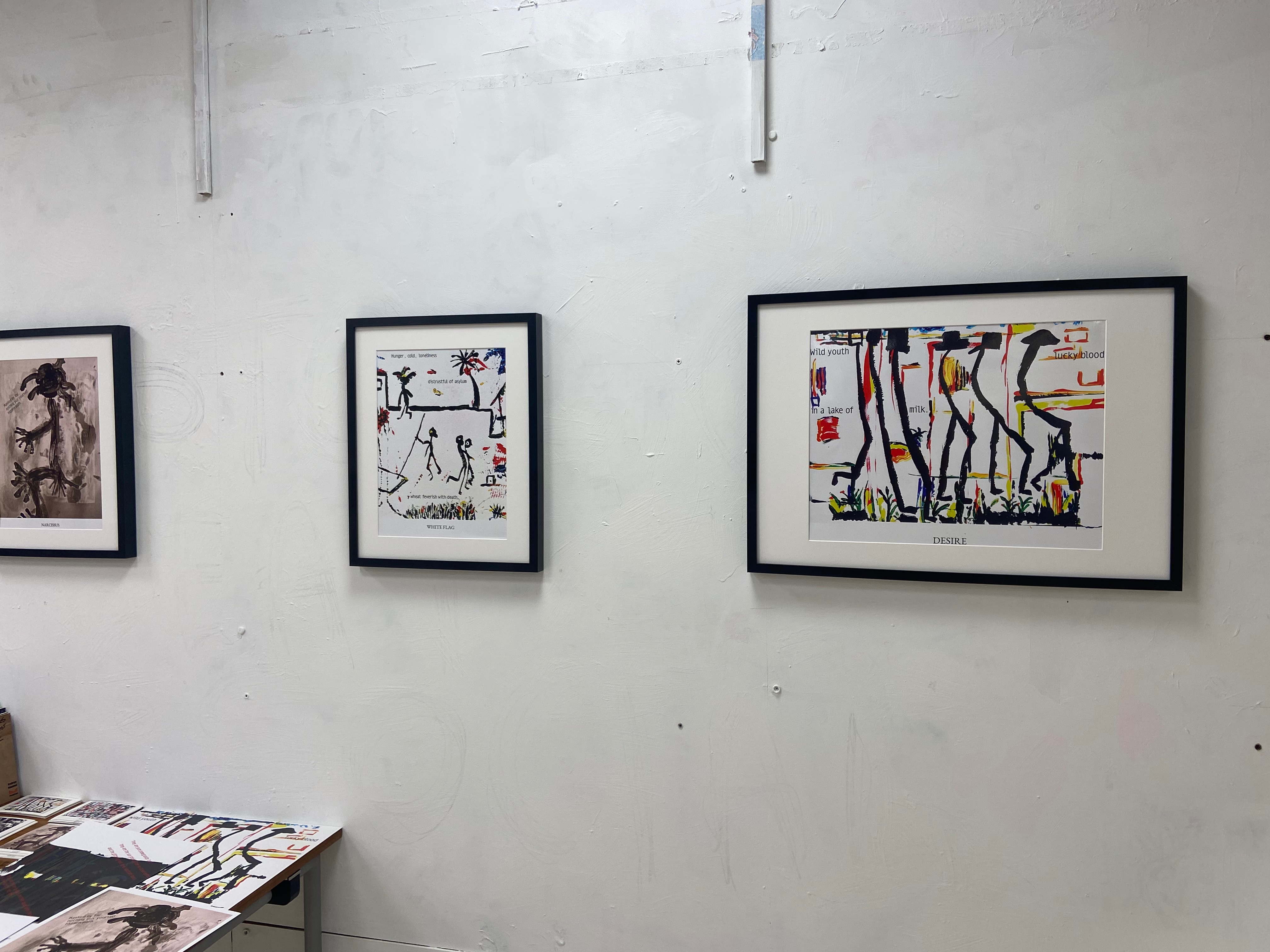 March 26 - April 27, 2022 Holding Patterns print exhibition and opening event
w/performances by Sarer Scotthorne, Peter Jaeger, Andres Andwandtner, Paul Hawkins & Julia Rose Lewis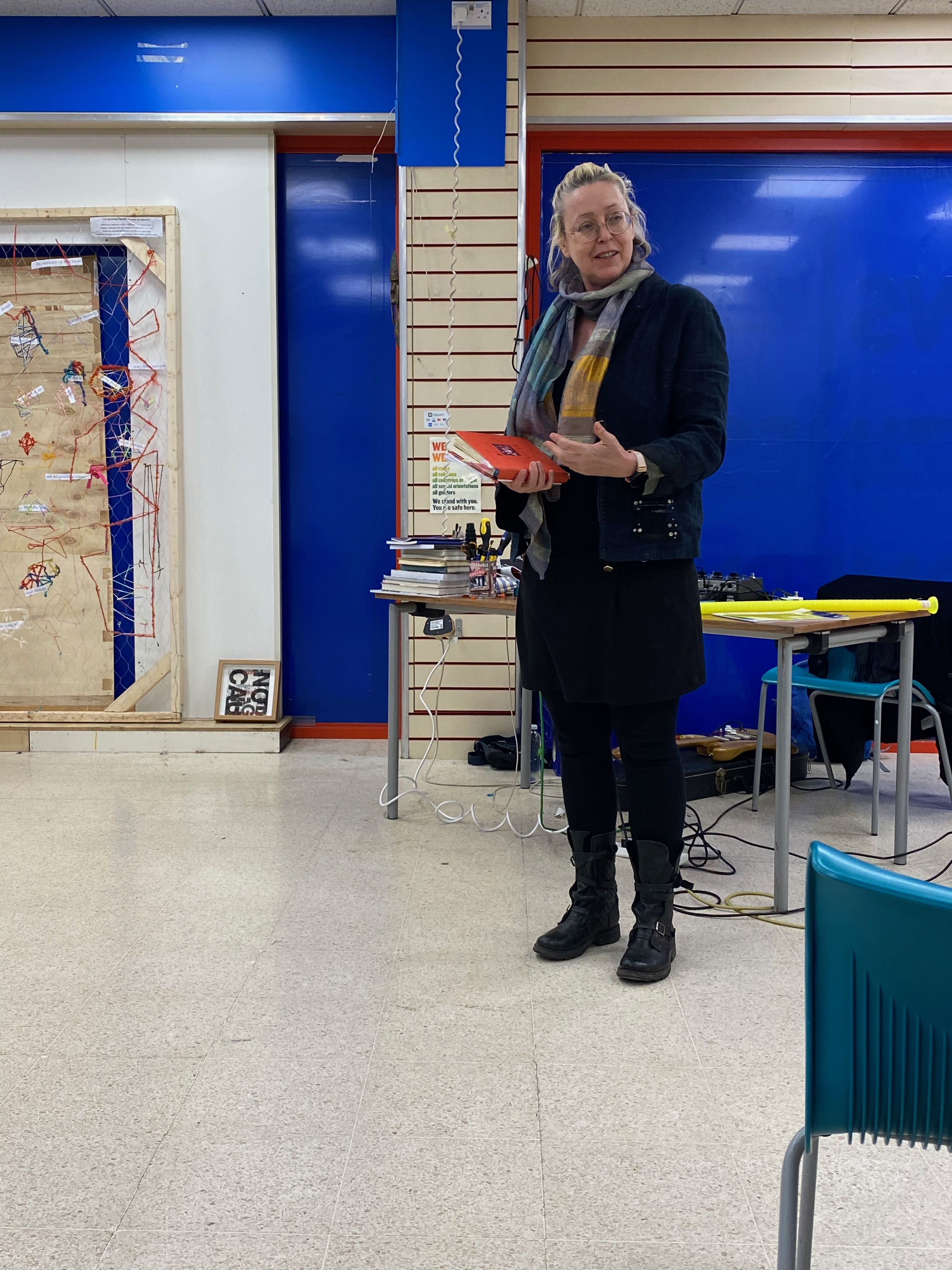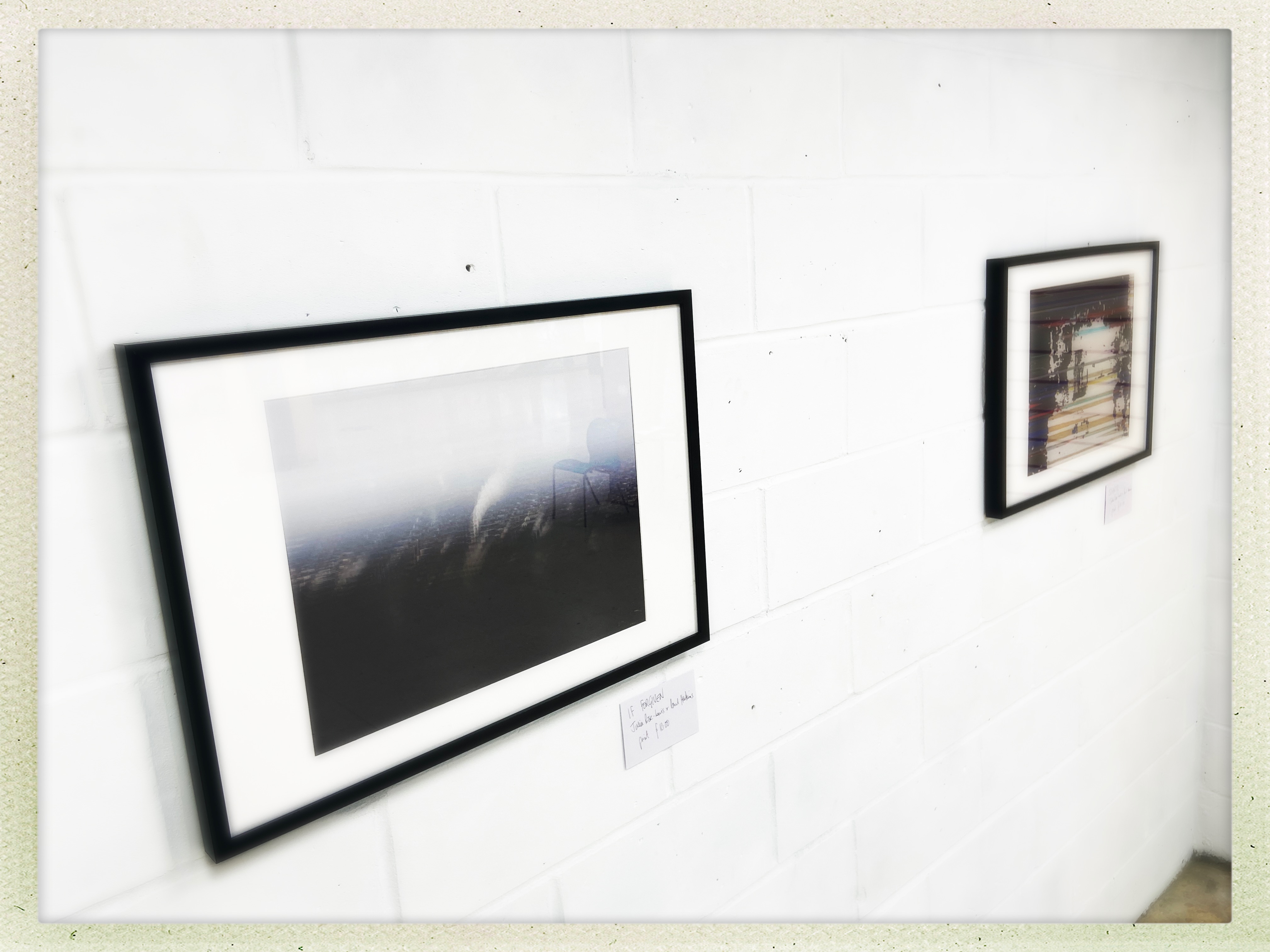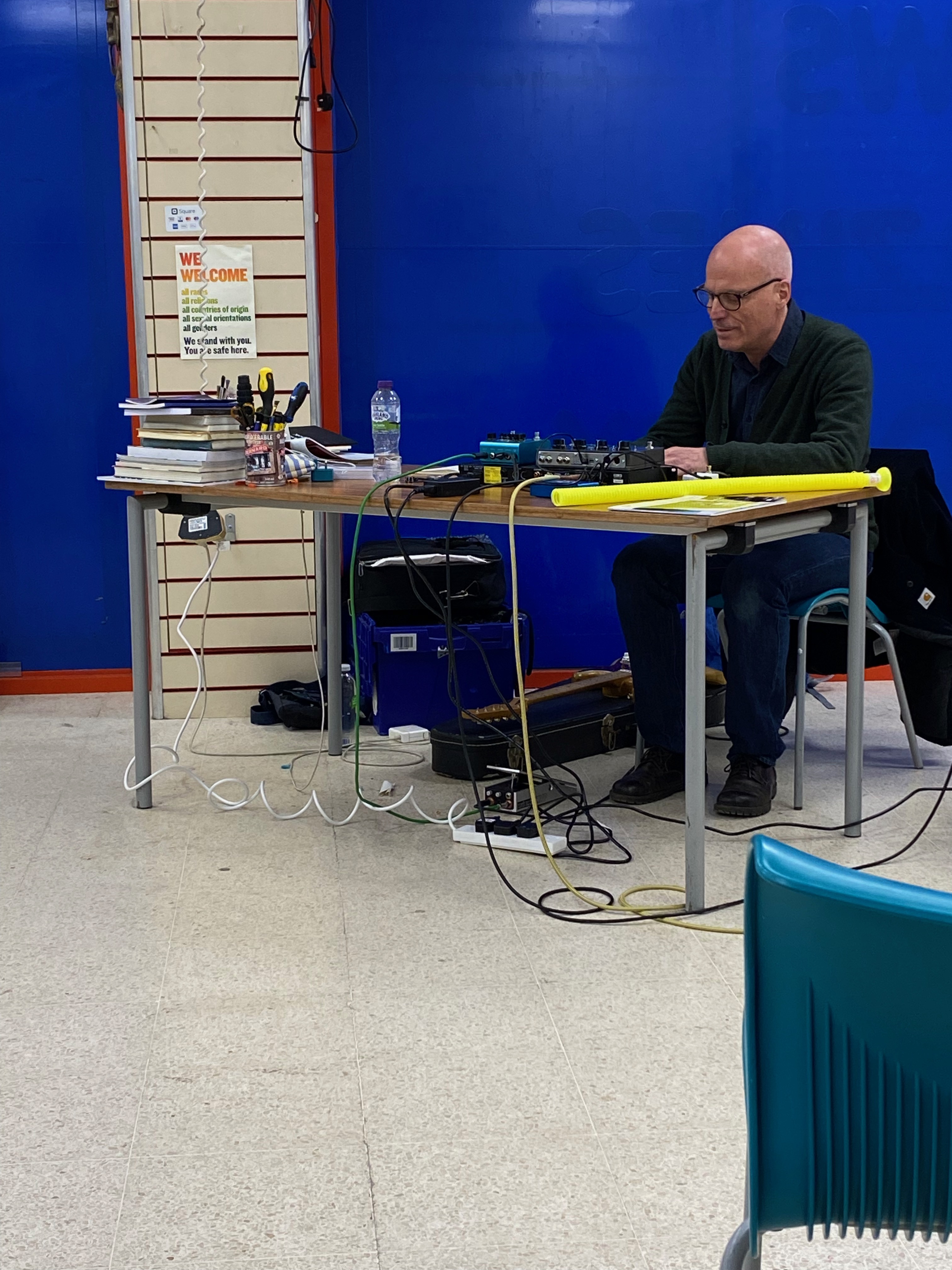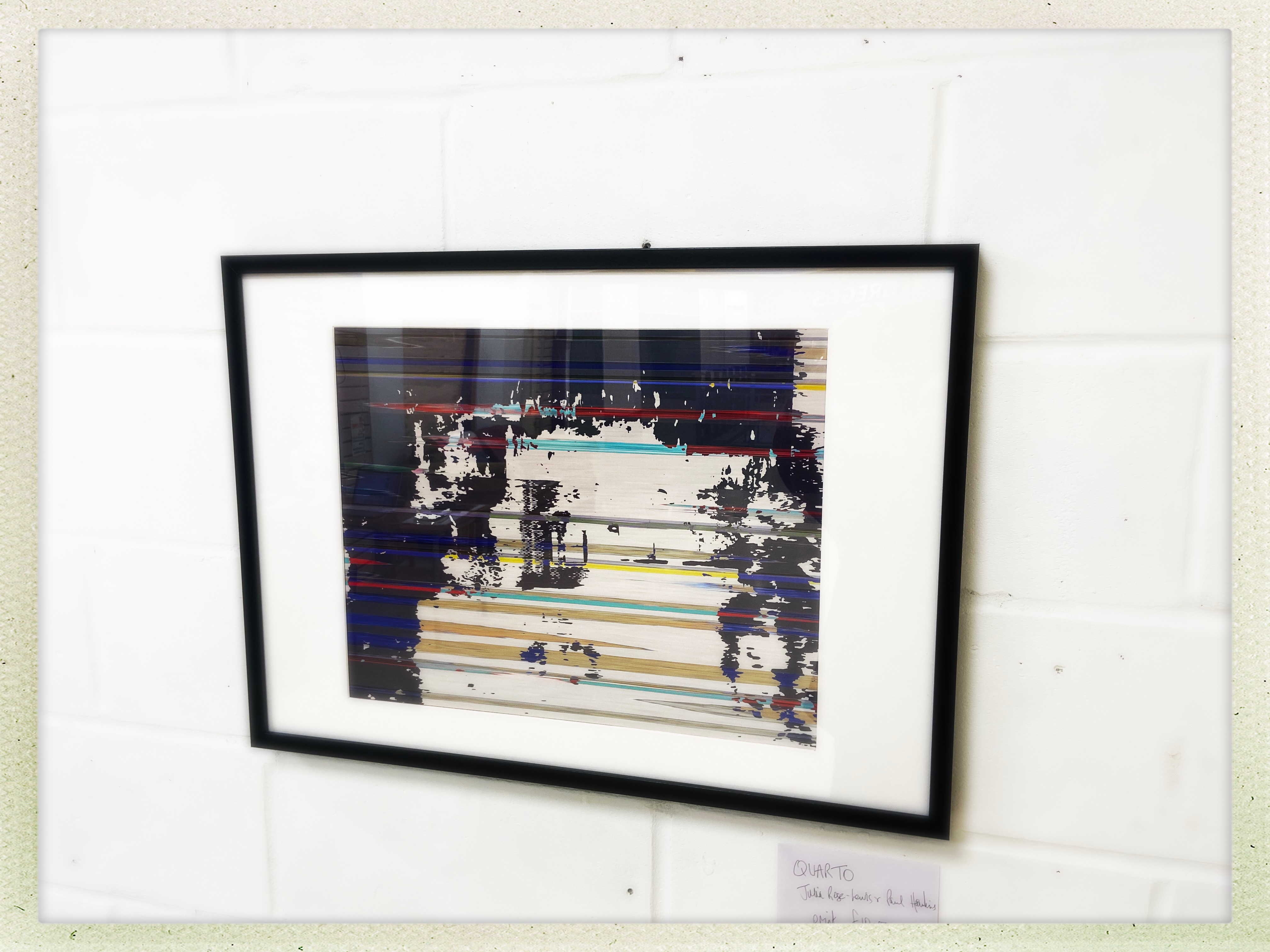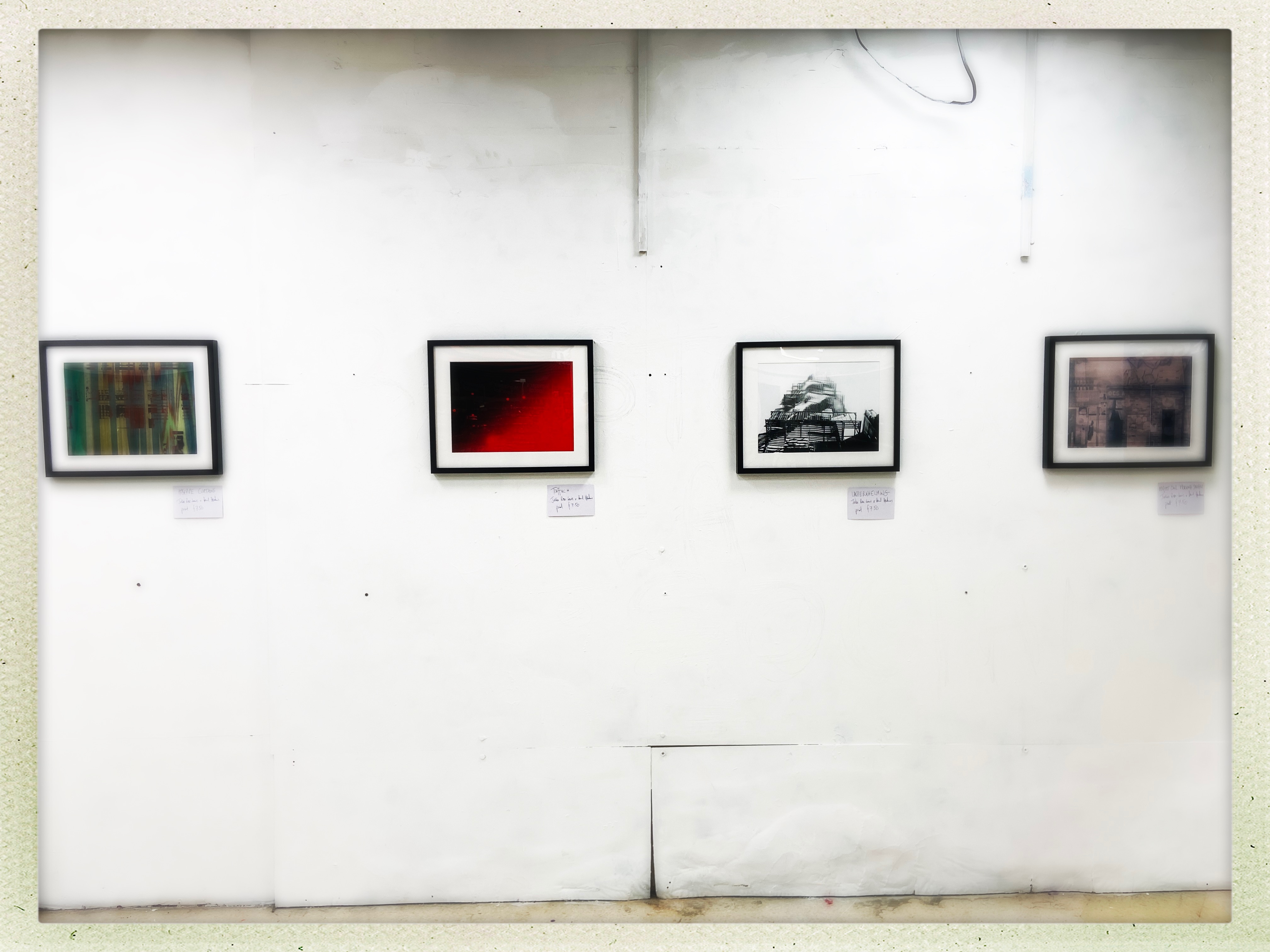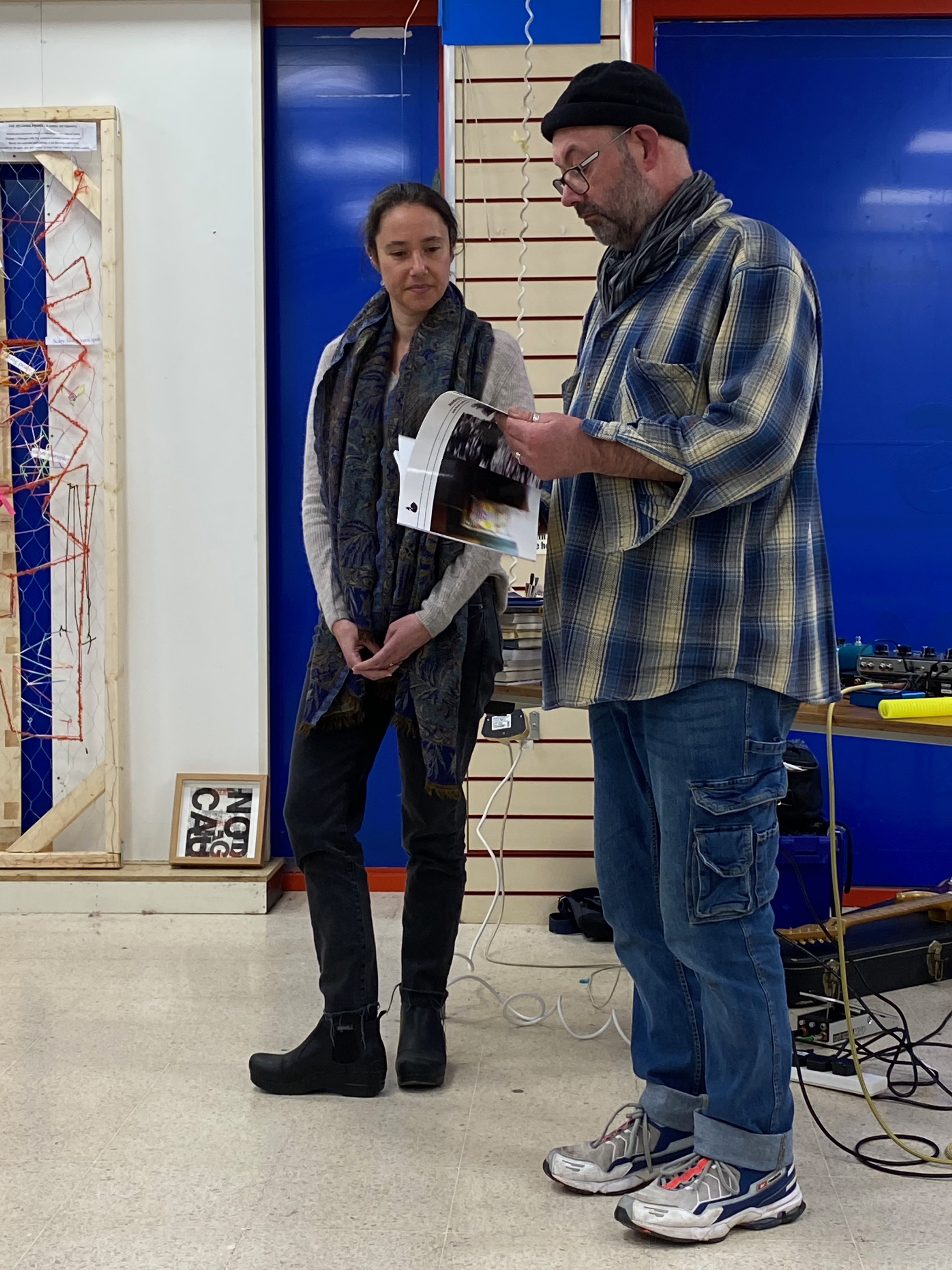 Feb 19 - Mar 26, 2022 Rezia Wahid: Weaving Light installation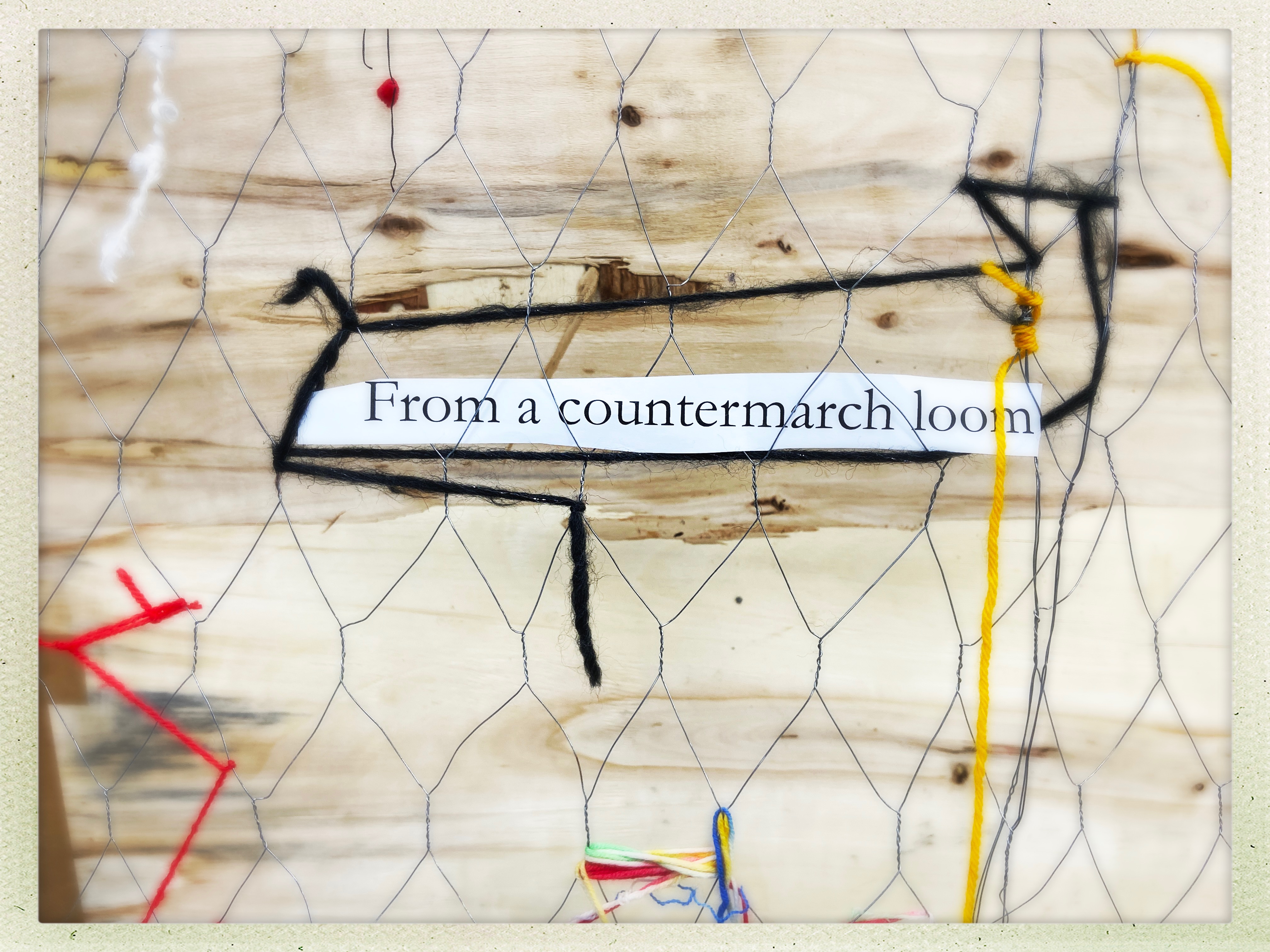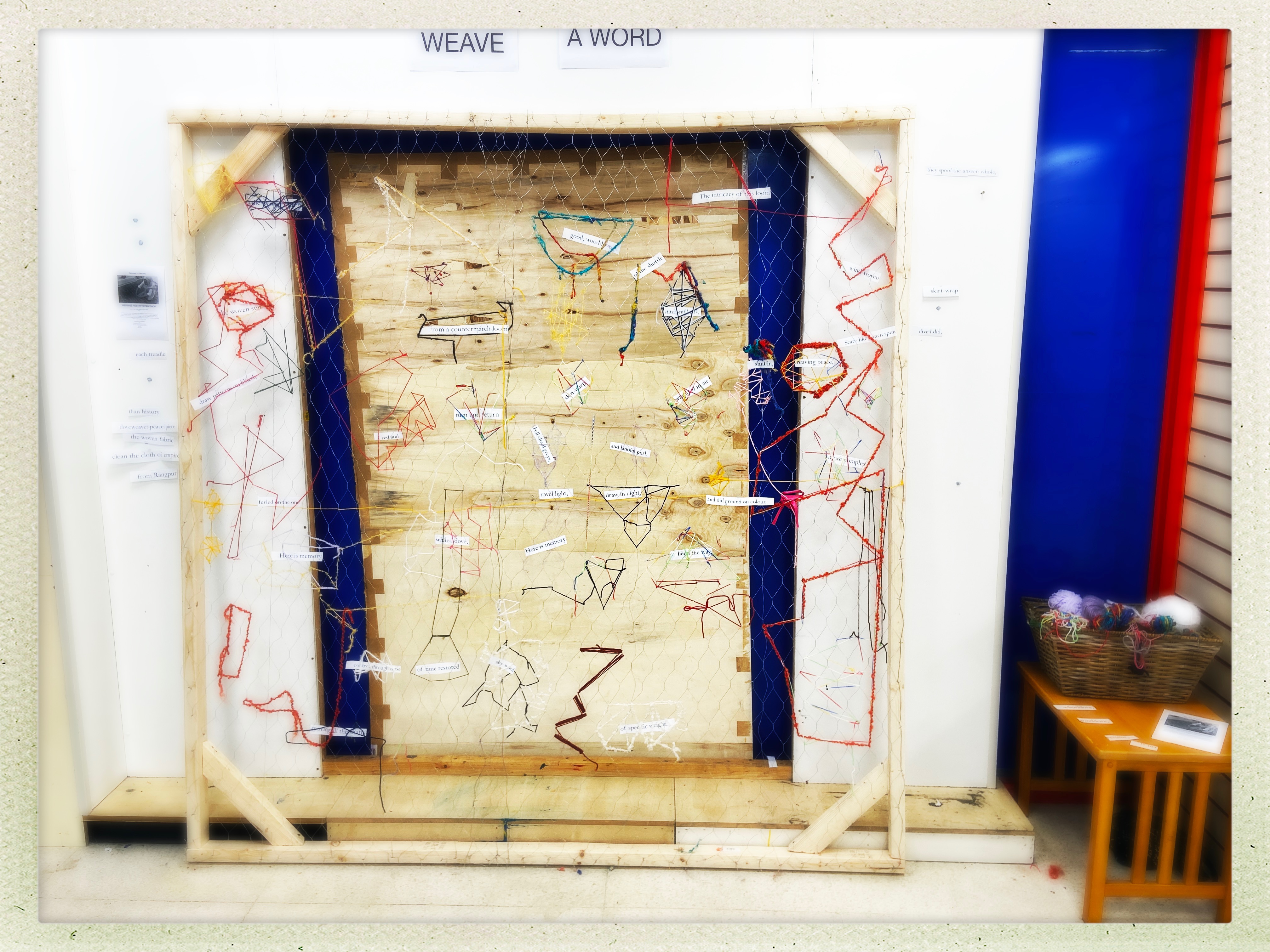 Feb 23, 2022
Bill Drummond's Forty Minute Interview w/Paul Hawkins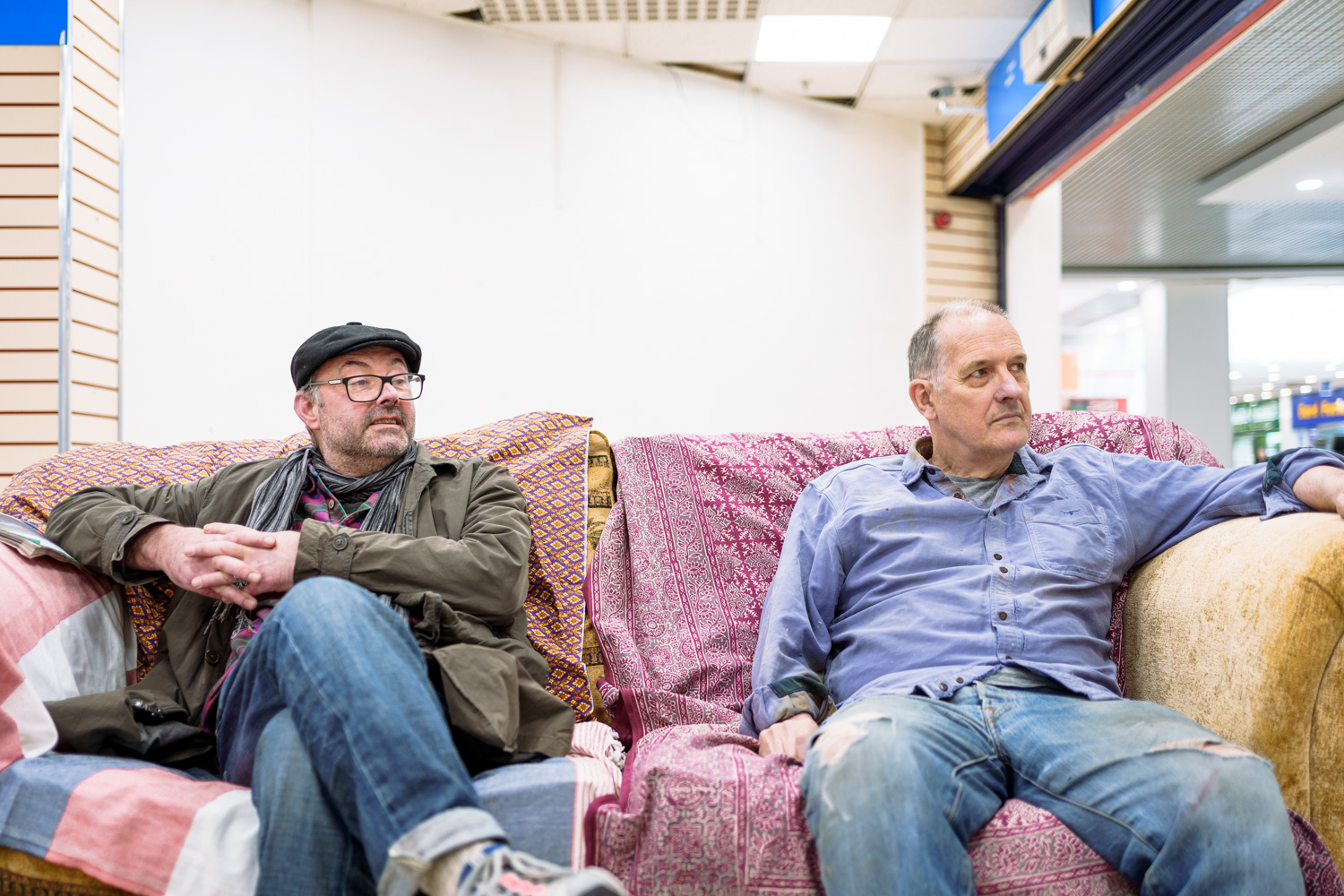 Dec 4 2021 - Jan 12 2022
NEW AGENTS Print Exhibition Super-Artgo / Steve Ryan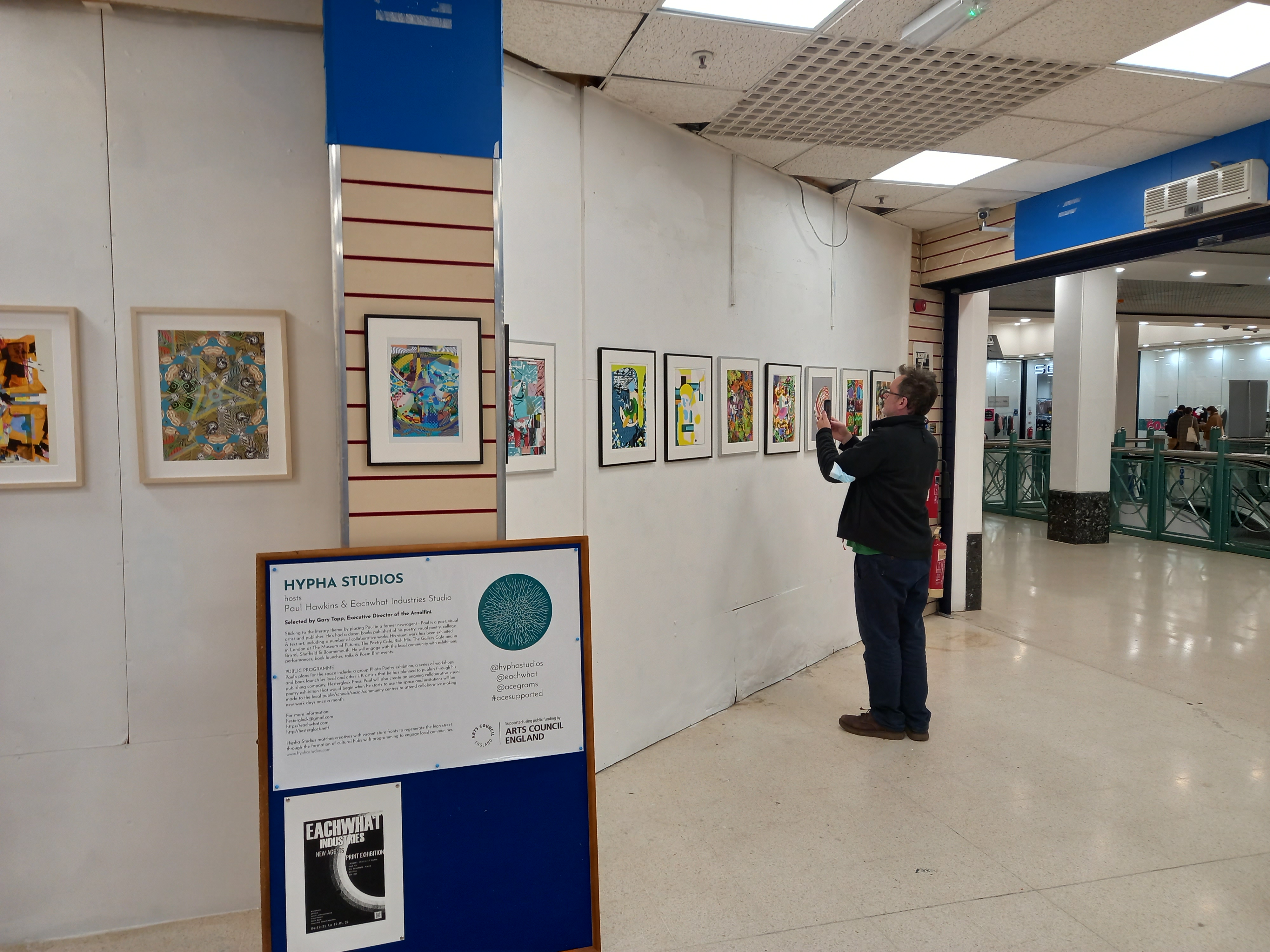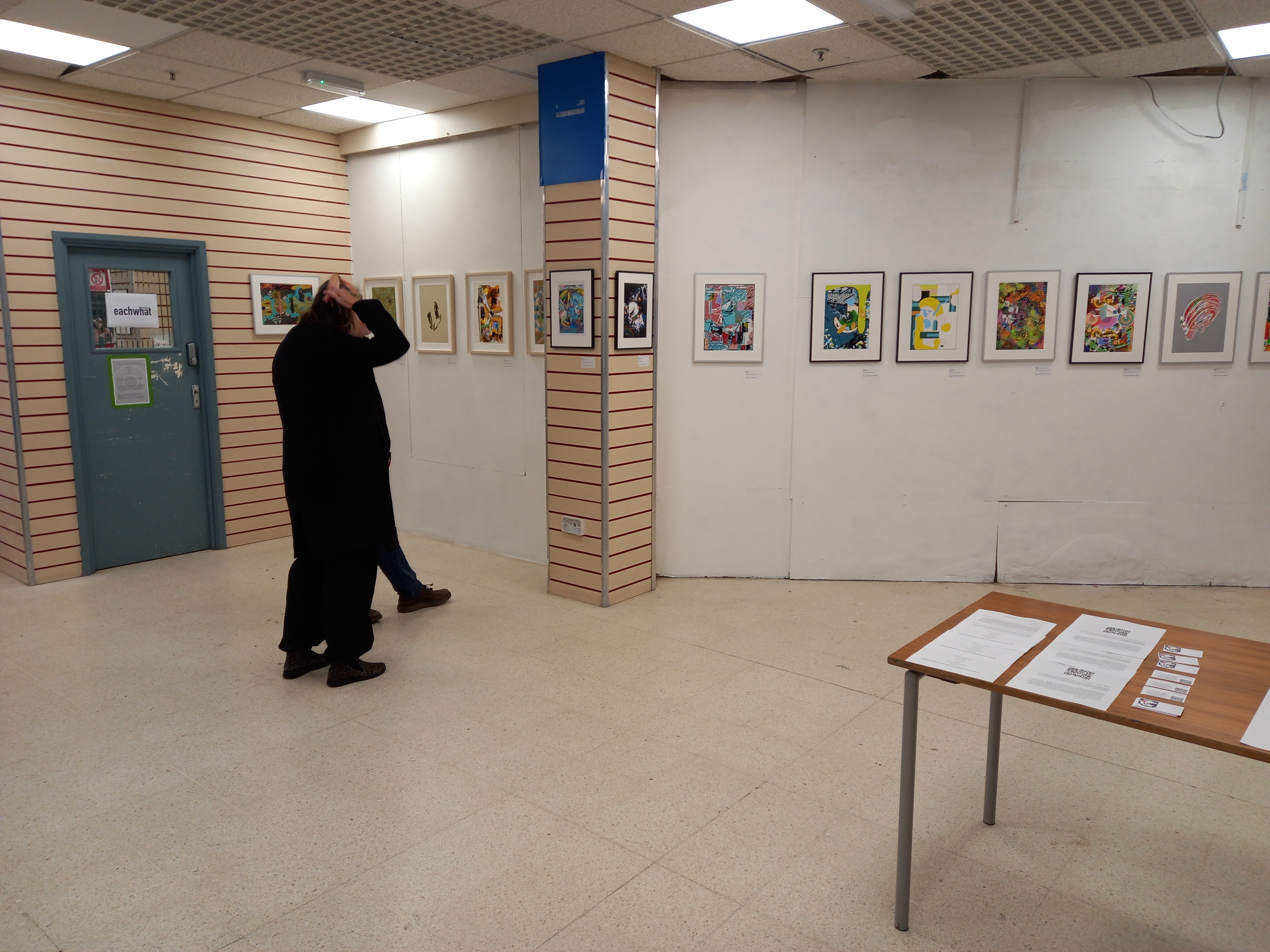 Nov - Dec 2021
Michael Harford Selected Collages Exhibition
Oct 15, 2021
Poem Brut in Bristol
COMMUNITY ART WALL September 1 - Nov 30 2021
At Eachwhat Studio I've always made space available to the local community of Knowle for scribbling, scrawling, mark-making, painting, sketching, writing; in fact whatever those passing by feel they'd like to use the space for. As use of the studio space has changed, the space for the community has changed; from one large wall to smaller walls.
photos: Tom Skipp & Paul H
iii)
Performances on film
Selected Collaborative Performances
(selected performances with thanks to SJ Fowler, Miggy Angel, Sarer Scotthorne, Lisa Lorenz, Mark van Klaveren & Andrew Neil Hayes for filming/recording)
Selected Solo Performances
v) Selected Audio work - solo & collaborative
Seven Christmas Songs / Knowle Noel
Bob Modem and Peter Jaeger
Bob Modem: Field Recordings from The Broadwalk Centre Shopping Mall in Knowle, South Bristol, England, December 2021
Peter Jaeger: Guitar and Treatments
Photograph by Bob Modem
A & B Sides - Small Things Happen and Bob Modem
Includes high-quality download in MP3, FLAC and more, PLUS PDF booklet.
Buy the digital album with PDF book on Bandcamp ︎︎︎name your price
about: Bob Modem made 13 graphic scores. Peter Jaeger read, improvised, played and recorded them during lockdown in Bristol, 2021. Together they made six colour A Sides and seven black and white B Sides. The album download includes a high-quality PDF booklet of all scores.creditsreleased September 10, 2021
Paul Hawkins: graphic scores.
Peter Jaeger: electronics and electric guitar.
Jan 27 2021
Insect Sleep Under Birdsong:
A collaboration between visual artist/poet Paul Hawkins and poet/sound artist Peter Jaeger commissioned by Writers Centre Kingston - new poetry-films commissioned in Covid-19 Lockdown in lieu of their normal new years events program.
Written by Paul Hawkins, based on three years he spent occupying properties in London. FLEA tells the story of several characters and a chain of events that began 1990 in the (in)famous squatted community of Claremont Road in Leyton east London.
Backwash
EACHWHAT Industries
·
Backwash - Meltdown (acoustic)
EACHWHAT Industries
·
04. Backwash - Meltdown (band rehersal)
The Roadbreakers - Big Road Blues


The band was formed from local musicians who lived along the proposed route of the M11 Link Road. We played gigs to raise money for the No M11 Campaign. The Stranglers Fan Club recorded one of these gigs and released it on CD. Copies were sold to raise money too. I've no idea whether it is still for sale now. Probably for the best.
EACHWHAT Industries

·

07 Hard Road (John Mayall) EACHWHAT Industries

·

12 Walking Blues (Son House)

I played with a lot of other bands when squatting in Claremont Road, including this one . ..

EACHWHAT Industries

·

Backwash

Below, taken from the album If This Is Your Best Shot Okra? by truCulentEnigma (Paul Hawkins & Hester Glock)

track listing:

> 1. ramirez 1 - 5.10

> 2. gimbri - 21.05

> 3. drugless - 1.46

> 4. slake long march - 6.54

> 5. mill house draw - 6.30> 6. three teas carnie mood - 7.47

> 7. ghost and out - 4.27

> 8. bloke likes three's - 4.25

all songs ©hesterglock/paul hawkins 2007

more info : eachwhat.com

...staying unhinged amongst the gambling insanity of the global (+/-) pop culture Dow Seng...

for ellie & ruby

thank you audiomulch & gnoua

︎free download

hpcd031

www.headphonica.net

2008

more to be added . . .


vi) Exhibitions



Feb - April 2023
Postcards for Perec
243 contemporary artist responses to the postcard messages of Oulipo virtuoso Georges Perec (1936-1982), curated by Linda Parr, is now being exhibited at Albert Sloman Library, University of Essex, Wivenhoe Park Colchester, CO4 3SQ until April 2023. Paul H. is one of those artists who responded.


Nov - Jan 14 2023
POSTCARDS FOR PEREC
group exhibition curated by Linda Parr at Uni of Puget Sound, 1500 N. Warner St., Tacoma, WA 98416 USA more info here

Nov - Dec 2022
POSTCARDS FOR PEREC
group exhibition curated by Linda Parr at Cardiff University Special Collections and Archives

May 30 - Nov 21 2022
Wakefield & Modem HANDSFREE print exhibition at Eachwhat Studio, Bristol

Oct 30 2022
POSTCARDS FOR PEREC group exhibition curated by Linda Parr at the Festival of Architecture and Design, Istanbul, Turkey

March 26 - April 27 2022
HOLDING PATTERNS
work from Holding Patterns (Beir Bua Press, 2021) by Julia Rose-Lewis and Paul Hawkins at Eachwhat Studio, Broadwalk Centre, Bristol BS4 2QU

Feb 1 - March 1 2022
ARTIST BOOK EXHIBITION
Paul Hawkins is the featured artist in the Bower Ashton Library showcase, UWE, Bristol, UK

Jan 19 - Feb 3 2022
POSTCARDS FOR PEREC
Linda Parr's Postcards for Perec group exhibition is on tour and (in which I have a piece of work) now installed in The Street Gallery at the Locksbrook Campus of Bath Spa University

Sept 5 - 19 2021
TEXT-ISLES
A Poem Atlas group exhibition at The Art park gallery, Rhodes, Greece
more details here

JUNE 1 - AUG 31, 2021
POSTCARDS FOR PEREC
@ Uni of West of England, Bower Ashton Library, Bristol. Artists from twenty-two countries create new postcards in response to the Two Hundred and Forty-three Postcards in Real Colour (Perec, 1978). A slideshow featuring Postcards for Perec was shown as part of The Lost Weekend at Bristol Artists Book Event 2021, and was released on 16th April. A touring exhibition and catalogue will be forthcoming. Curated by Linda Parr.

JAN 20 – FEB 22, 2020
TEMPORARY SPACES
@ The Poetry Café, London. Via Poem Atlas . To purchase a unique exhibition catalogue pub. by Pamenar Press, take a look here

FEB 3 – MARCH 30, 2020
HESTERGLOCK @ NECK OF THE WOODS
a dozen or so Hesterglock Press books to view/read, along with artworks by Sarer Scotthorne & Paul Hawkins Neck of the Woods Community Cafe, St. Werburgh's Community Centre, Bristol

FEB 18 – MARCH 10, 2020
NOTATIONAL LITERATURE, THE UNFINISHED WORK
The 4th annual Museum of Futures Exhibition

F A K E
Corrupted Poetry present performances, a pop-up exhibition and a ltd. edition pamphlet @ October Gallery, LONDON
TO BE RESCHEDULED DATE TBC

MAY 15 - JUNE 5, 2020
ESCAPISMS
online exhibition curated by Astra Papachristodoulou for Poem Atlas

JULY 16 - AUG 9, 2020
HOME
Mellom Press curate a multilingual visual poetry group exhibition

FUTURE-FACING
AUG 15 - SEPT 5, 2020
NeoptiCo Collectiv & Astra Papachristodoulou's Astropolis (Hesterglock Press, expanded 2nd edition) launch exhibition @ Poem Atlas

SEPT 4 2020 - JAN 31 2021
Knives Forks and Spoons Press exhibition as part of the Blackpool Illuminations, installed on Blackpool's cliff section at the North Shore

POTOS
FEB 17 – MARCH 13 2019
Explorations in handwritten poetry & analog photography @ Museum of Futures, Surbiton

INSTAPOETRY
APRIL 26 – JULY 1 2018
the world's first Instagram poetry exhibition, showcasing the best of over 1,000 Instapoetry submission @ The National Poetry Library, Southbank Centre, London

JULY 1 – AUG 31 2019
AN INVISIBLE POETRY: SJ FOWLER AND POET'S BRUT
group exhibition @ The Poetry Café, London

POEM BRUT AT SPIKE ISLAND
MAY 5 2018
exhibition, workshop & performances
@ Spike Island, Bristol

SCRIBBLING AND SCRAWLING
FEB 22 – MARCH 21 2018
The annual Museum of Futures visual poetry exhibition @ Museum of Futures, Surbiton

HARD TO READ
JAN 13 (performance night) 2018
Collected Paint Poems, Pansemia, Cinematic Drawings and Logograms of SJ Fowler
Rich Mix Gallery, London

DIISONANCE
SEPT 1 – SEPT 30 2017
artworks/performances/book launch: Steve Ryan & Paul Hawkins, The Gallery Cafe, London

DIISONANCE
JUNE 21- JUNE 24 2017
SIX project space residency: artworks,
performances &
workshop: Steve Ryan & Paul Hawkins
Bank Street Arts, Sheffield

END||BEGIN
MARCH 17 – APRIL 9 2016
Scratch the Surface Mental Health Arts Festival, Coventry

PLACE WASTE DISSENT
OCT 5 – OCT 8 2016
collage & text from Place Waste Dissent (Influx Press 2015),
readings/film screening of Life In The Fast Lane: The No M11 Story (dir: Neil Goodwin, Mayyasa Al-Malazi) & Blight (John Smith/Jocelyn Pook)
Bank Street Arts, Sheffield

PLACE WASTE DISSENT
NOV 10 – DEC 12 2015
collage & text featured in Place Waste Dissent (Influx Press 2015) & book launch
The Arts House, Bristol

BOURNEMOUTH EMERGING ARTS FRINGE
OCT 27 – OCT 31 2015
line & mass w/SIX Gallery artists
Meyrick Hall
Bournemouth

PHOTO POETRY SURFACES
June 2021 - ongoing


online group exhibition part of the Bristol Photo Festival 2021

view HERE